Jewish Cultural Heritage - the latest cultural and educational events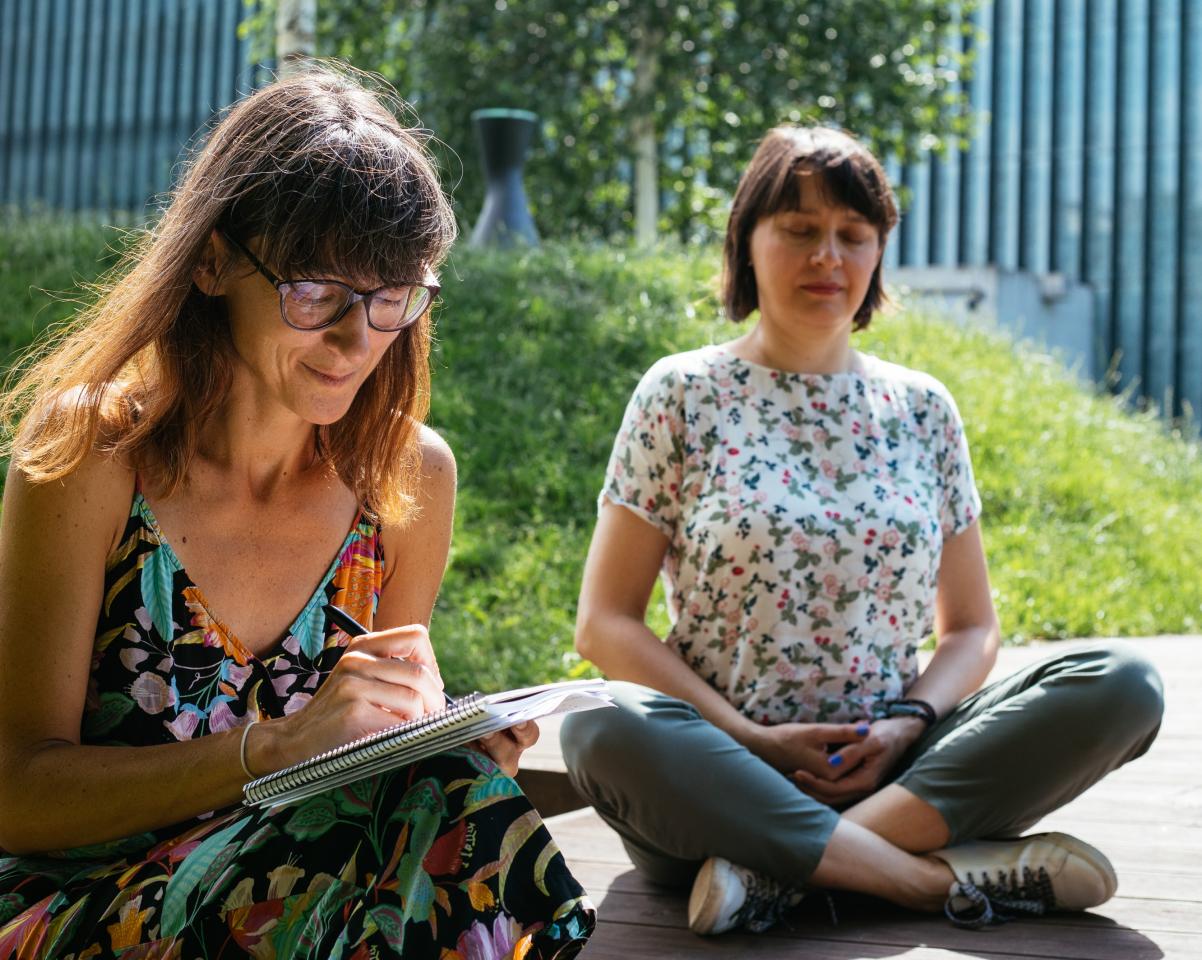 Accompanying programs for our temporary exhibitions, open-air activities, international seminars for museums and trainings for teachers – this diverse summer offer was prepared by the POLIN Museum within the framework of the "Jewish Cultural Heritage" project carried out with the EEA Grants, and state funding.
Leśmian's Meadow
"Leśmian's Meadow" is the fifth edition of events at the open-air installation near POLIN Museum, inspired by the works of Bolesław Leśman - a well-known Polish-Jewish poet.  From June 26 to August 10, a total number of 31 events took place at the "Medow": 26 open-air and 5 online, gathering almost 45 000 viewers.

The program of the "Medow" is connected to the "Heritage" gallery that was opened in Polin in January 2021. It is related to the heritage of famous Jews, to whom we dedicated film screenings "Stars of Pollywood", an open-air review of Billy Wilder films, a series of stand-ups called "Very interesting people" and family meetings "Locomotive".

The "Meadow" could not happen without recreational events: yoga and exercise sessions for seniors, activities based on the idea of mindfulness (including creating poetry), gardening workshops and online music concerts.

Learn more about the "Leśmian's Medow" program >>
Events accompanying the "Such a Landscape" exhibition
Within the framework of events accompanying Wilhelm Sasnal's exhibition "Such a Landscape", we will discuss darker pages of history, difficult memories and the attitude towards strangers or being different. 

The program includes viewing of the exposition with experts in art and culture, activities for representatives of minorities and migrants, people with disabilities, as well as city walks. We are planning a cycle of debates, lectures, film screening, family workshops and classes for students.

From June 17 – the opening date of "Such a Landscape" –  to late July 2021, 11 live events took place alongside the exhibition and 4 online meetings for 16 868 viewers.

Watch a video presentation of the Wilhelm Sasnal's exhibition >>
Program of accompanying events >>
"They Fill No Space" - open-air exhibition     
After presentations in Oslo and Zagreb, the open-air exhibition "They fill no space" was introduced to audiences in Lublin and Warsaw. In the following months, it will also travel to Kraków, Łódź and Rzeszów. The regional presentations are combined with a rich program of events created in cooperation with local partners. 

"They Fill No Space" is an exhibition created in 2017 as a result of collaboration between POLIN Museum and the Norwegian Center for Holocaust and Minority Studies in Oslo. Murals are used by local activists to present a number of motifs related to the history of Polish Jews, Polish-Jewish relations and cultural memory.
See video presentation of the exhibition and the most interesting murals from various places in Poland >>
Summer courses for teachers
Summer months also come with an offer of online courses dedicated to teachers and educators.  These meetings are focused on the history and culture of Polish Jews, as well as on teaching methods involving the use of modern art and oral history.

59 people participated in three courses in July. 50 more individuals were qualified to participate in courses planned for the remaining summer weeks.
Museum education - international seminars
In June and July, we have continued the program of the MEST international seminars (Museum Education Seminars and Training). The MEST program was initiated by POLIN Museum and its partners: Jewish museums in Oslo and Trondheim, as a vocational training project for educators from Jewish museums in Europe.
Within the framework of MEST, together with the Association of European Jewish Museums, we have organised several online activities: interactive workshops and lectures, integrating events and practical workshops. From February to July 2021, 160 individuals took part in a cycle of 6 seminars and 2 training sessions.