"Jewish Cultural Heritage" – the power of diversity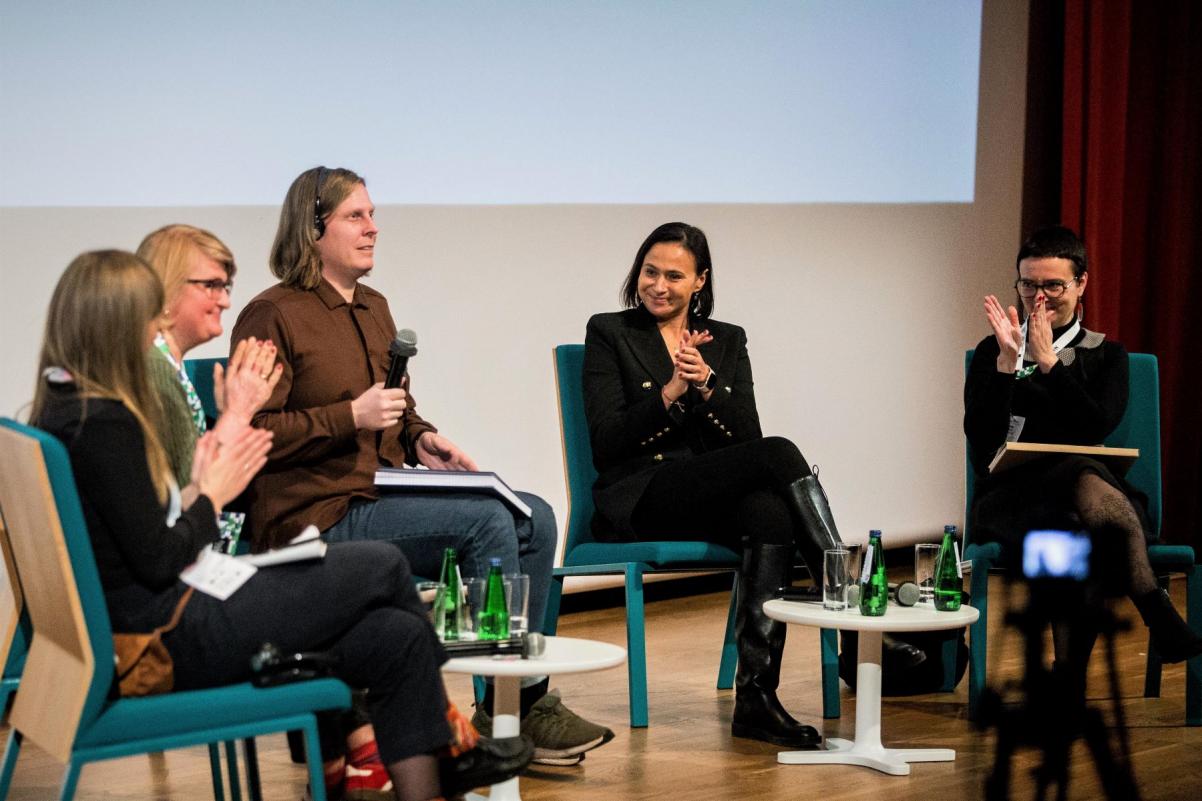 From an academic conference devoted to the minority groups' narratives in education, to local activities commemorating no longer existing Jewish communities and a mobile exhibition travelling to small towns, our autumn offer of events encompasses a wide range of topics.
International educational conference
Between 3 and 5 November 2022, together with our partners from the Falstad Centre in Norway, we organised an educational conference titled "How do we speak about ourselves, how do they speak about us? (Re)presentation of minority groups in education." Experts and representatives of Jewish, Ukrainian, Vietnamese and Chechen minorities participated in the conference; they discussed the perception of minorities in Poland as well as the challenges and new trends in education on diversity. The conference (online and on-site) was already the third event of its kind organised within the framework of the Jewish Cultural Heritage [JCH] project.
New markings of Jewish cemeteries
Together with the National Heritage Institute and local partners, we launched the second edition of ceremonial markings of Jewish cemeteries as part of the programme initiated by the Ministry of Culture and National Heritage. On 27 October 2022, a plaque was unveiled in commemoration of the Jewish cemetery in Bączek near Skarszew (Pomeranian Province). Earlier this year, similar markings appeared in the cemeteries in Janów Lubelski (Lubelskie Province) and in Brzozów (Podkarpackie Province). In 2024, we will introduce new markings of Jewish cemeteries in each of the 16 provinces and will run educational workshops addressed to children and youth.
"Museum on Wheels" route
"Museum on Wheels" is a travelling exhibition which visits towns with the population of no more than 50,000. It acquaints their inhabitants with the history of Polish Jews and restores the memory of local Jewish communities. It is also an excellent platform for cooperation with local activists and institutional partners who implement their own programme of educational events accompanying the exhibition in their town. This year's route covers as many as 10 localities in the Świętokrzyskie, Śląskie, Wielkopolskie and Kujawsko-Pomorskie Provinces. Our last stop this season will be a visit to Brześć Kujawski on 23-25 October.
Donors' Day
With all those who donated keepsakes, documents, books and photographs to the POLIN Museum ever-expanding collection in mind, we organised a special ceremony on 23 September. We invited all our Donors to a joint meeting combined with a presentation of the fruit of a year-long film-and-music project run by visual artist Jaśmina Wójcik and composer Mikołaj Trzaska. The project illustrated the role of Donors and their contribution to the POLIN Museum community and collection. The Donors' Day was held as part of the European Days of Jewish Culture.
More awards for the events realised within the JCH project
In this year's edition of the WIERZBA Mazovian Museum Events competition, POLIN Museum was honoured with two prizes for the activities realised within the "Jewish Cultural Heritage project". In the "Educational project" category, we won joint third place for the "Museum in a Box" project, and in the "Museums Online" category we were awarded joint third place for the project titled "Personal Stories—a Series of Films and an Educational Conference."
In the 13th edition of the Warsaw Cultural Education Award, in the "Artistic Institutions and Museums" category, our colleague Katarzyna Jankowska was awarded second prize for her historical-literary project titled "Peers—Guides. Inspired by the Heritage."
We won first place in the category of promotional and marketing campaigns in the prestigious Visible Museum competition organised by the National Institute for Museums and Public Collections, which awards institutions which carry out the best image and promotional campaigns. This time, the promotional activities for the 2021 Daffodils campaign, part of the JCH project, were recognised.
Save the date – international JCH congress in 2023
""Jewish Cultural Heritage: Practices, Perspectives, Challenges" – on 19-20 October 2023, we will meet at the international congress organized under this very slogan. The congress will recap the implementation of our long-term project.
We would like to invite participants of various educational and cultural activities we have been running together with our Norwegian partners and the Jewish Historical Institute since 2020 to take part in the congress. We would also like to invite our regular audience and the people associated with POLIN Museum.
We do hope that this special event will be a true celebration of education on diversity, as well as a platform to discuss new topics and interpret the role of Jewish culture and history in Europe today. We ask all our friends to save the date of 19-20 October 2023 in their calendars!