GEOP workshops selected for 2022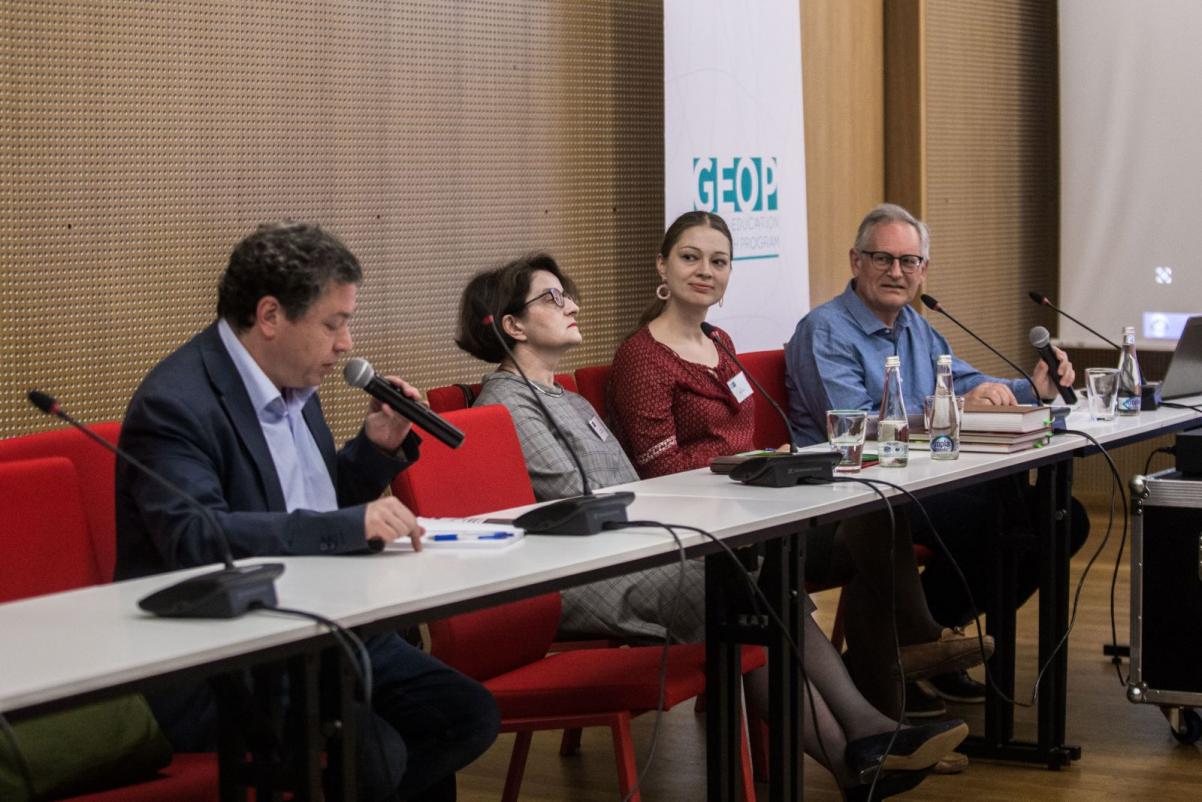 Thinking Through The Museums, May/June 2022
Organizers:
Concordia University
Festivalt
Powszechny Theatre.
Thinking Through the Museum (TTTM) is a 7-year Research Network that works in museum settings to co-produce exhibitions and design tools to challenge elite institutional knowledge systems, and beyond their walls to explore alternative heritage mobilization in festivals, grassroots archives, and site-based curating, where communities can set their own agendas.
POLIN Museum, as a key TTTM Partner Organization, is hosting the network's first face-to-face workshop , where scholars, practitioners, and students from Australia, Canada, the Netherlands, Poland, South Africa, the UK and the USA will share their progress on ongoing research and curatorial projects, and discuss pressing issues regarding heritage preservation and critique related to current crises in the East-Central European region.
Between Worlds: Performing Polish-Jewish Continuities, December 2022
Organizers:
University of Łódź
Australian National University
Boston University
Jewish Theatre (Warsaw)
Jewish Historical Institute (Warsaw)
Polish Association for Yiddish Studies
The Marek Edelman Dialogue Center
Australian Institute of Polish Affairs
Australian Society of Polish Jews and their Descendants
Melbourne Yiddish Theatre at the Kadimah
Australian National University
Yiddish Book Center (New York).
Theatre is and has been an important site for Polish-Jewish encounters. This GEOP workshop will bring together scholars, artists and cultural actors to explore the characteristics, functions, and significance of the Jewish theatre by studying its activity in Poland and in the broader transnational contexts throughout Polish-Jewish diasporas. The sessions will focus on the intellectual, social, political, and cultural contexts of theatrical activities, the theatre's role in stimulating intercultural Polish-Jewish dialogue, and its impact on the identity of the Jewish communities with Polish roots living in Australia and the Americas.
The organizers have posed several challenging questions: What is the role of Jewish theatre and its culture-creating potential in forging and maintaining Polish-Jewish identity? Is Jewish theatre important in navigating Polish-Jewish relations and Jewish ties with Poland? Can attention to theatre help scholars representing various academic disciplines expand the discussion on Polish-Jewish relations outside of the Holocaust narrative and redefine Polish-Jewish memory? This final question seems particularly important, since theatre can plausibly serve as a linkage across pre- and post-war eras and generations.
The workshop in Warsaw will be followed by two seminars, in Australia and the US. 
Global Education Outreach Program was made possible thanks to the Taube Philanthropies, the William K. Bowes, Jr. Foundation, and the Association of the Jewish Historical Institute of Poland.