Still Standing 2023 – a performative action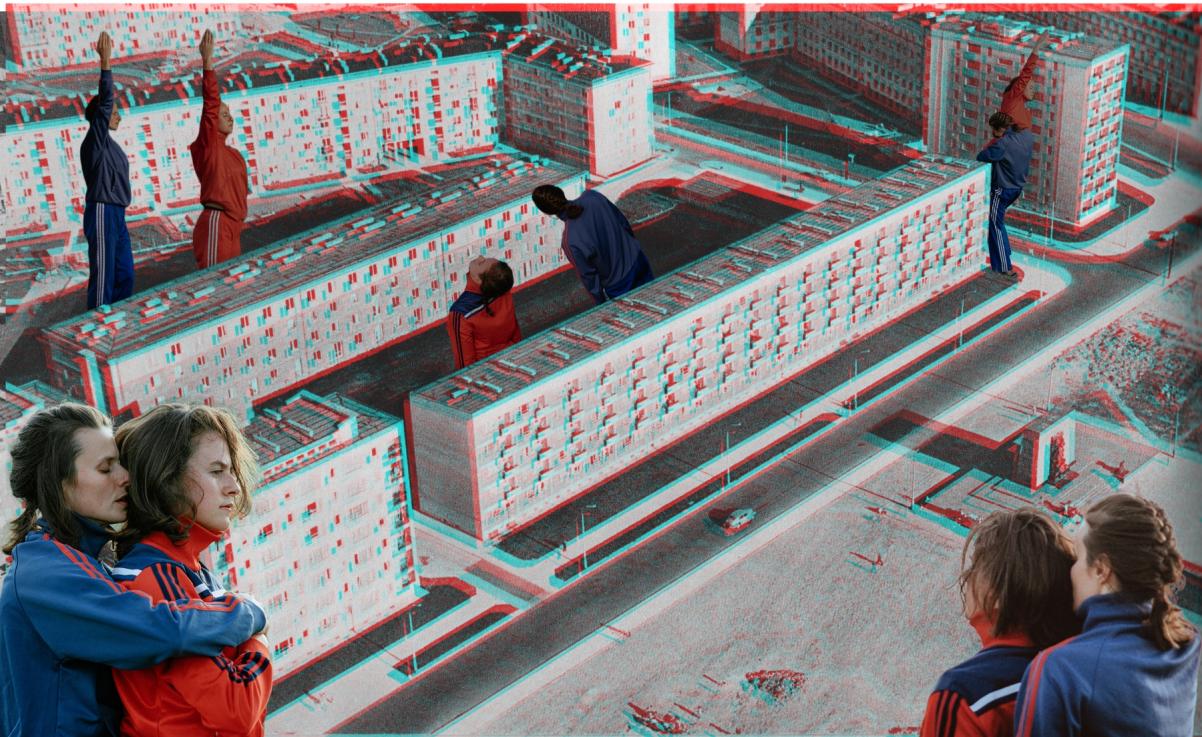 "Still Standing" is a performative action in which human body is treated as a living sculpture created in relation to its location. The performance enters into dialogue with the historic choreography by Israeli artist Noa Eshkol created to commemorate the 10th anniversary of the Warsaw Ghetto Uprising and performed at the kibbutz Lohamei ha-getaot (Ghetto Fighters) in Israel in 1953.
16 May (Tuesday), 6 PM, free admission
Location: urban space (start: Monument to the Ghetto Heroes—the end: terrace over Muranów Cinema)
Please, take your smartphone and headphones with you. The event is accompanied by an audio track, read by Michael Rubenfeld. We encourage you to listen to it multiple times during the event.
Transcript of the recording "Care", Still Standing 2023 [.docx] >>
This year, 70 years on, POLIN Museum, FestivALT, Mazovian Institute of Culture and PERFORM have developed a new take on Eshkol's choreography to mark the 80th anniversary of the Warsaw Ghetto Uprising. It's been conceived as both a commemoration of blowing up the Great Synagogue which took place on 16 May 1943, and a gesture of opposition against the Nazi perpetrators' intentions which resulted in this barbaric act.
By using movement, choreography and narrative, Still Standing poses a question on caring as a possible reaction to whatever has remained of history—caring which not only takes us back to the past, but also to the present-day and towards the future. Through the performers' moving bodies, the action also poses questions on how ephemeral forms may be used as commemoration strategies? What can a movement draw from a given location and its history?
By placing the bodies within a specific space—along with all its layers—Still Standing experiments with creating images to be interpreted by the viewers. By probing relations transformed into physical action, it strives to remain in perpetual motion between the past and the present, between what is personal and what is collective. This year, a thus far small-scale event involving two female performers is changing into a collective performative action. We have invited 80 persons to participate in it — residents of Muranów, but also others interested in recalling the memory as part of the 80th anniversary of the Warsaw Ghetto Uprising commemorative program.
"Still Standing" has been developed since 2020 by Weronika Pelczyńska and Aleksandra Janus in cooperation with Monika Szpunar, thanks to the support of FestivALT.
Weronika Pelczyńska – graduate of the SEAD Experimental Academy of Contemporary Dance in Salzburg, Warsaw Polytechnic (Faculty of Civil Engineering and Faculty of Management) and University of Warsaw (Institute of Polish Culture). Grant holder: DanceWEB 2013 ImpulsTanz, Carte Blanche 2013, Alternative Dance Academy 2017 and 2019, Adam Mickiewicz Institute in 2021 and the City of Warsaw in 2022. As a dancer and performer, Weronika collaborated with artists in Poland, Germany, Austria, France or Croatia. Since 2010, she has created choreography for theatre, film, video clips and commercials. Since 2011, she has been running individual and collective artistic projects. In the years 2018-2020, she was an associate of the international iCoDaCo collective. Weronika is a lecturer at the National Academy of Dramatic Art in Warsaw; she co-creates Centrum w Ruchu and the sisterhood practices initiative. What interests her most in choreography is building a collective entity while enhancing the individual. For her, dance is a channel for social emancipation from gender as well as historical, cultural and racial stereotypes.
Aleksandra Janus – PhD in anthropology, Deputy Chair of the Zapomniane Foundation, co-author and curator of the Museum Lab initiative, director at the Digital Centre and head of the Open Culture Studio which operates as part of the Digital Centre, curator of "Exercising modernity" program, co-founder and former member of the group Museum for Climate and of the Culture for Climate cooperative. Aleksandra is an associate of the Research Centre for Memory Cultures at the Jagiellonian University and a member of the Exhibiting Theory publishing board. Together with Natalia Romik, she had been engaged in a research which resulted in the exhibition Hideouts. The Architecture of Survival presented in 2022 at the Zachęta National Gallery of Art. In her academic work, Aleksandra researches memory cultures, commemoration strategies and the role of institutions in the process of institutionalising the discourse on the past.
Monika Szpunar – a dancer, performer, choreographer; graduate of ACTS/École de Danse Contemporaine in Paris and The Place, London Contemporary Dance School. She is a member of an international girls band The Band That Dance (fka The Yonis), a founding member of the sisterhood practices choreographic initiative and of the Body Lab at the Krakow Choreography Centre. She also develops individual projects and performances, and works as a choreographer in film, as well as for museums and theatres (i.a. Teatr Ochoty in Warsaw, Teatr im. Juliusza Słowackiego in Krakow, or Mały Teatr in Tychy). As a dancer and performer, Monika has collaborated with the following artists: Victor Quijada, Dan Van Huynh, Elinor Lewis, Weronika Pelczyńska, Kaori Ito, Kasia Witek, Agnieszka Glińska, Rafaela Sahyoun and Stefano Silvino.
Natan Kryszk – a saxophonist, painter and sculptor. Co-founder of Pokusa trio (Olter / Bryndal / Kryszk) with which he performed at numerous festivals, such as Off Festiwal, Jazz nad Odrą, Niewinni Czarodzieje, Jazz Jantar, or Unsound, as well as in many club venues. Natan is active in building an improvised art scene in Warsaw, among others with Ray Dickaty's Warsaw Improv Orchestra. As a sculptor, he collaborates with the Nowolipie Group, Paweł Althamer, Józek Gałązka, Ada Rączka. Natan is the author of music for theatre plays and dance performances by Irad Mazaliach, Justyna Sobczyk, Teatr 21, Daria Kopiec, Marta Ziółek, Weronika Pelczyńska and Patrycja Kowańska.
Authors:
concept: Weronika Pelczyńska, Aleksandra Janus
implementation: Weronika Pelczyńska, Aleksandra Janus, Monika Szpunar
music: Natan Kryszk
cooperation: Omer Krieger, Klara Łucznik
voice-over: Agnieszka Grochowska, Michael Rubenfeld
project curator: Ewa Chomicka
project producer: Alicja Kaczmarek-Poławska
performing: Elżbieta Balano, Barbara Baranowska, Małgorzata J. Berwid, Jowita Bożek, Monika Bubniak, Halina Chmielarz, Amok Choreomaniak, Oksana Czala, Julia Dutkiewicz, Sophia Gagina, Sylwia Gola, Agnieszka Górska, Katarzyna Górska, Żaneta Górska, Viera Hres, Klara Ignut, Urszula Iwińska, Natalia Kaczkowska, Natalia Klamann, Aleksandra Kowalczyk, Maja Kowalczyk, Małgorzata Kuszner, Ada Majchrzak, Bogumiła Małuj, Ewa Mazgajska, Aisza Myszkowska, Frajda Natychmiast, Iuliia Nevolina, Aleksandra Olszowska, Justyna Orlińska, Natalia Osiatynska, Katarzyna Pawluk, Edyta Pawłowska, Weronika Pelczyńska, Alicja Pietkiewicz, Agnieszka Pietras, Hela Rakovich, Paulina Rozmus, Izabela Rudzka, Agata Rutkowska, Anna Sałata, Katarzyna Sałbut, Dagmara Siwczyk, Kinga Senczyk, Małgorzata Sielińska, Olga Skrzypek, Anna Skurczyńska, Krystyna Słowik, Karolina Sobieszek, Weronika Solarek, Urszula Strych, Monika Szpunar, Małgorzata Tekiel, Julka Tomiczek, Katarzyna Ubysz-Piasecka, Patryk Wancerz, Alicja Wasiak, Dorota Warecka, Ewelina Wegner, Marzena Wiaderkiewicz, Jakub Wichowski, Magdalena Wilicka, Wojciech Winkler, Anna Wiśniewska, Robert Włodarczyk, Renata Wołowiec, Aleksandra Zagroba
Project coorganizers:
POLIN Museum of the History of Polish Jews
Project realised as part of the "Jewish Cultural Heritage" program
FestivALT
Project: MultiMemo. Multidirectional Memory: Remembering for Social Justice (European Union, CERV: Citizens, Equality, Rights and Values)
Centralna Scena Tańca w Warszawie edycja IV
Organizer: Mazovian Institute of Culture, PERFORM Art Foundation
Department: CST-Site-Specific
Curator: Paulina Święcańska
Co-financing: City of Warsaw

 

Support: