Meet the individuals depicted in the mural
image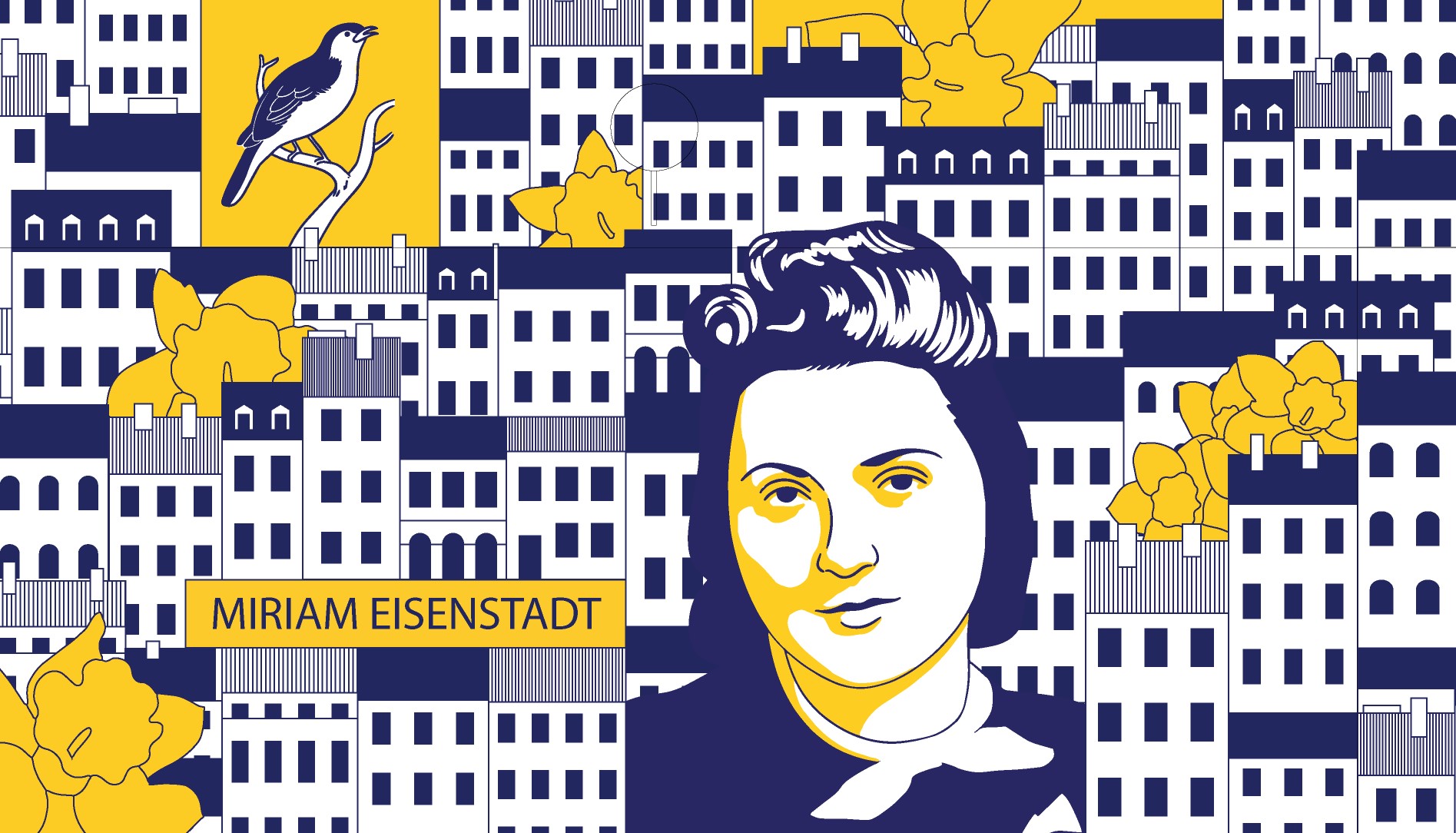 image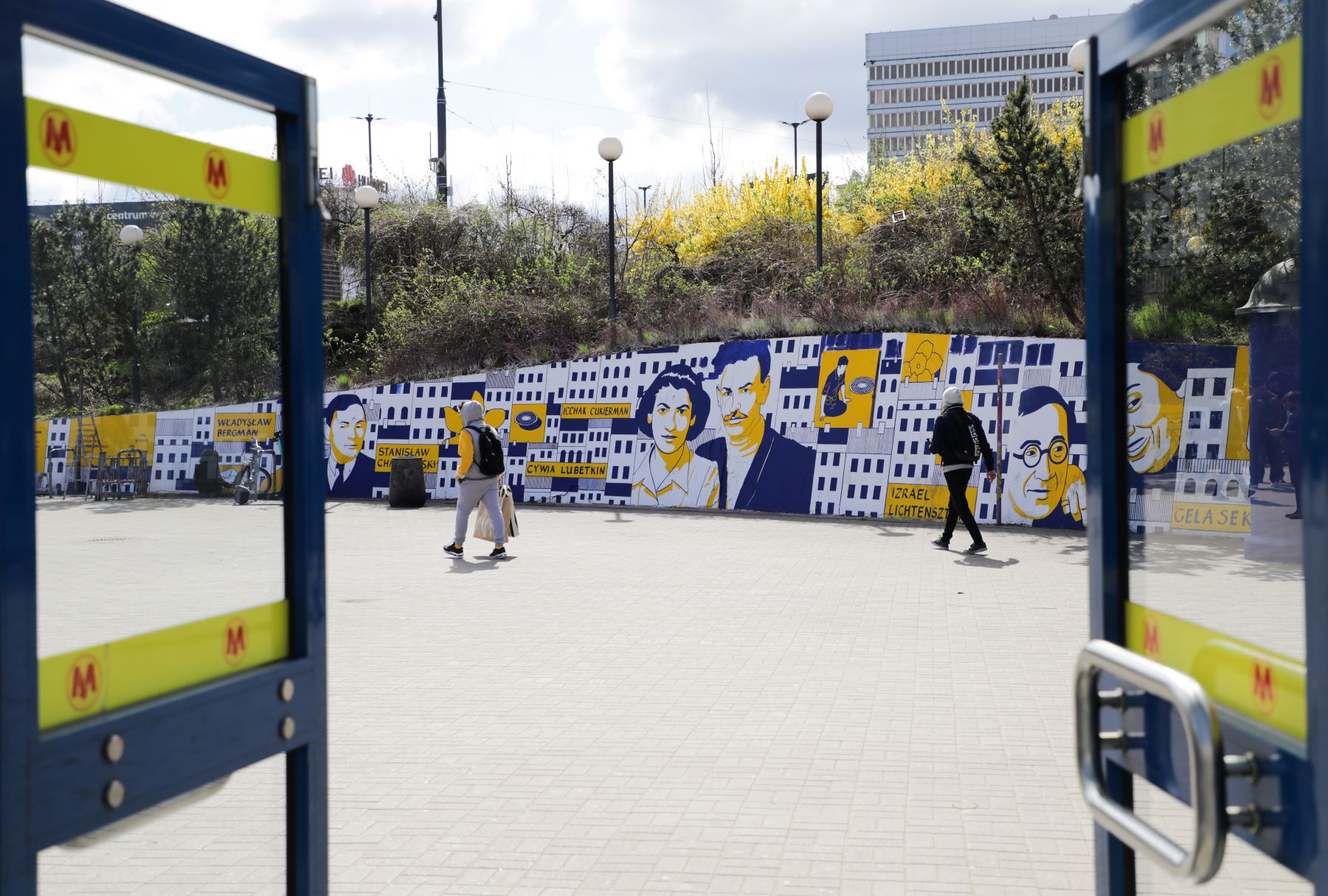 image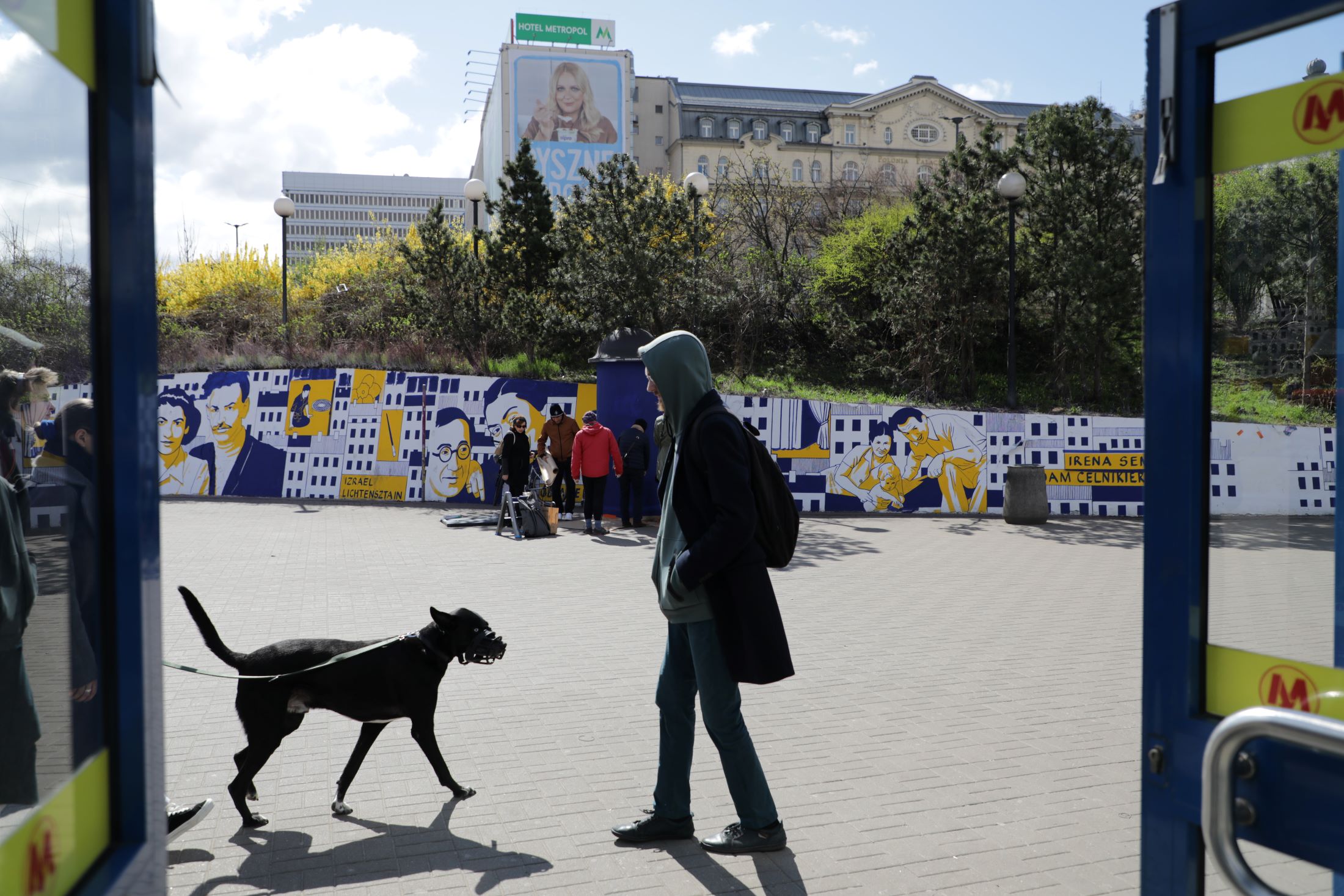 image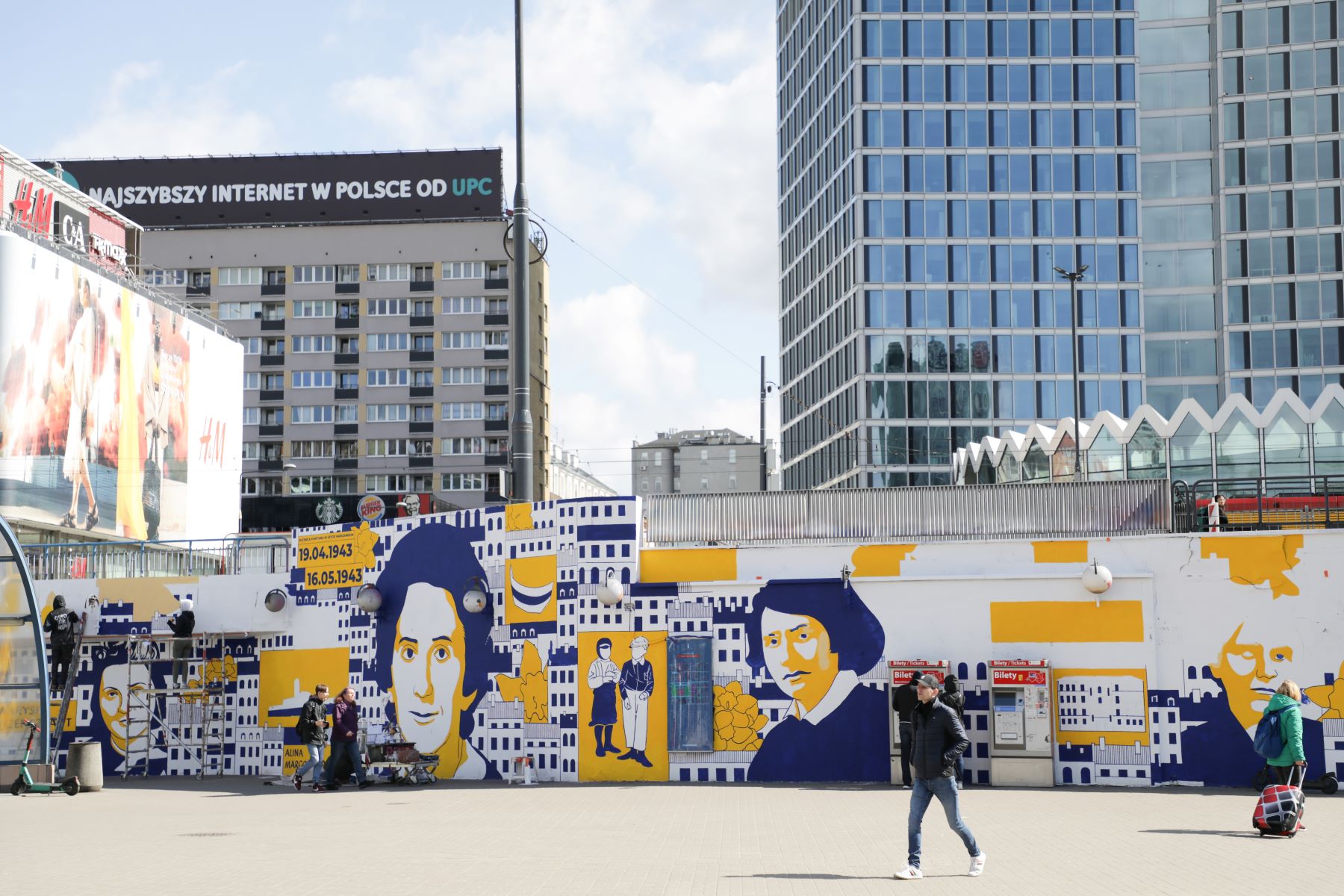 image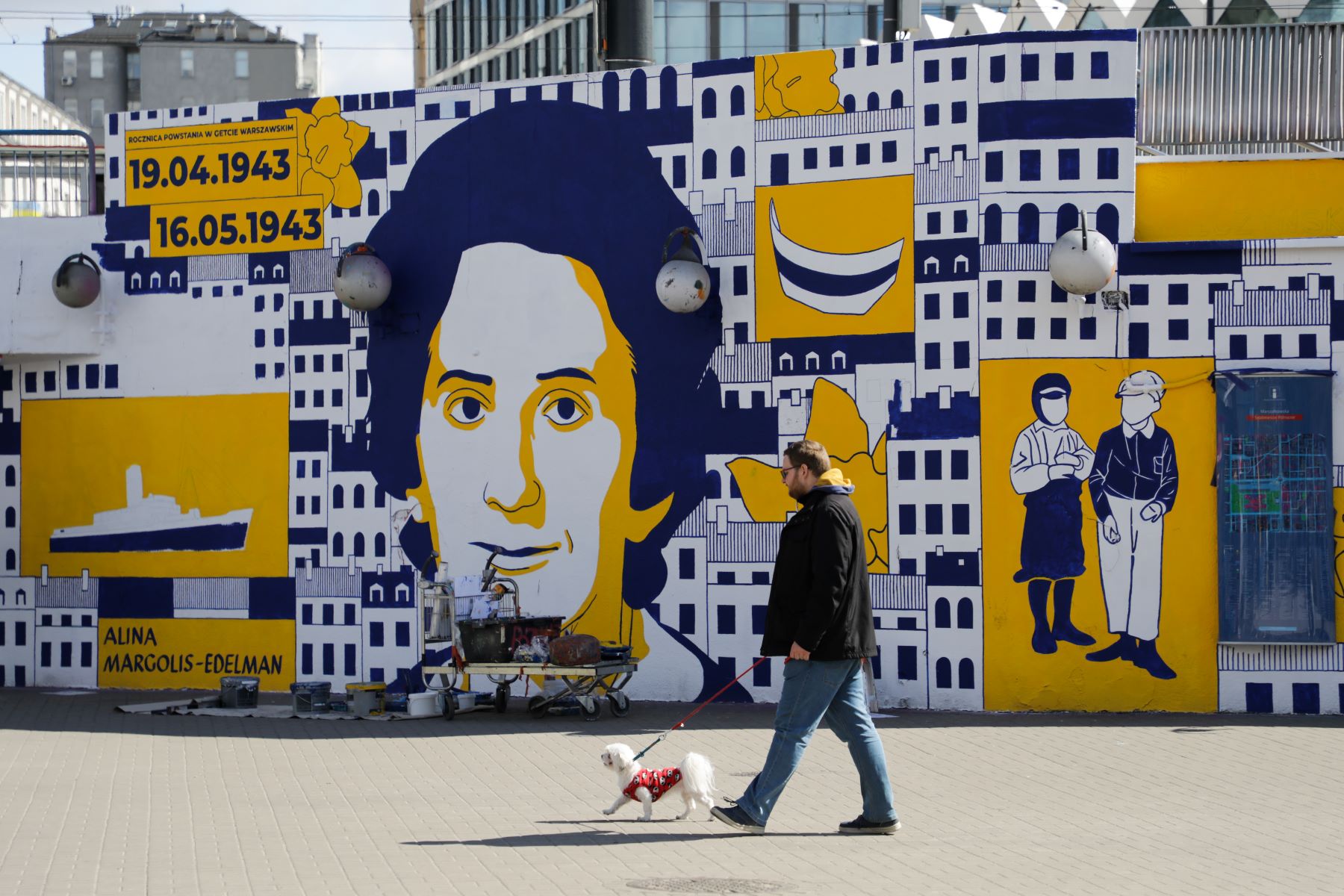 image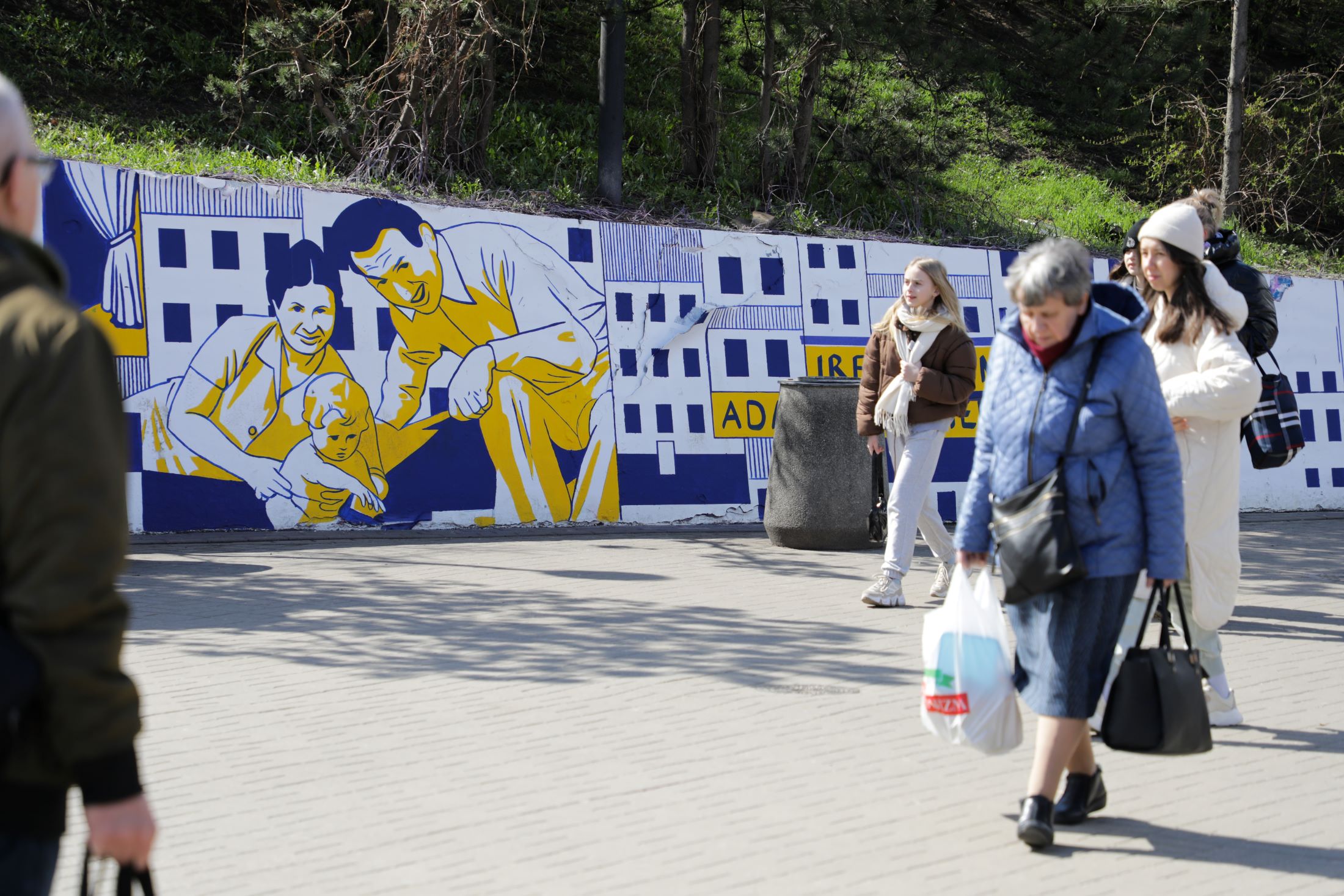 image
image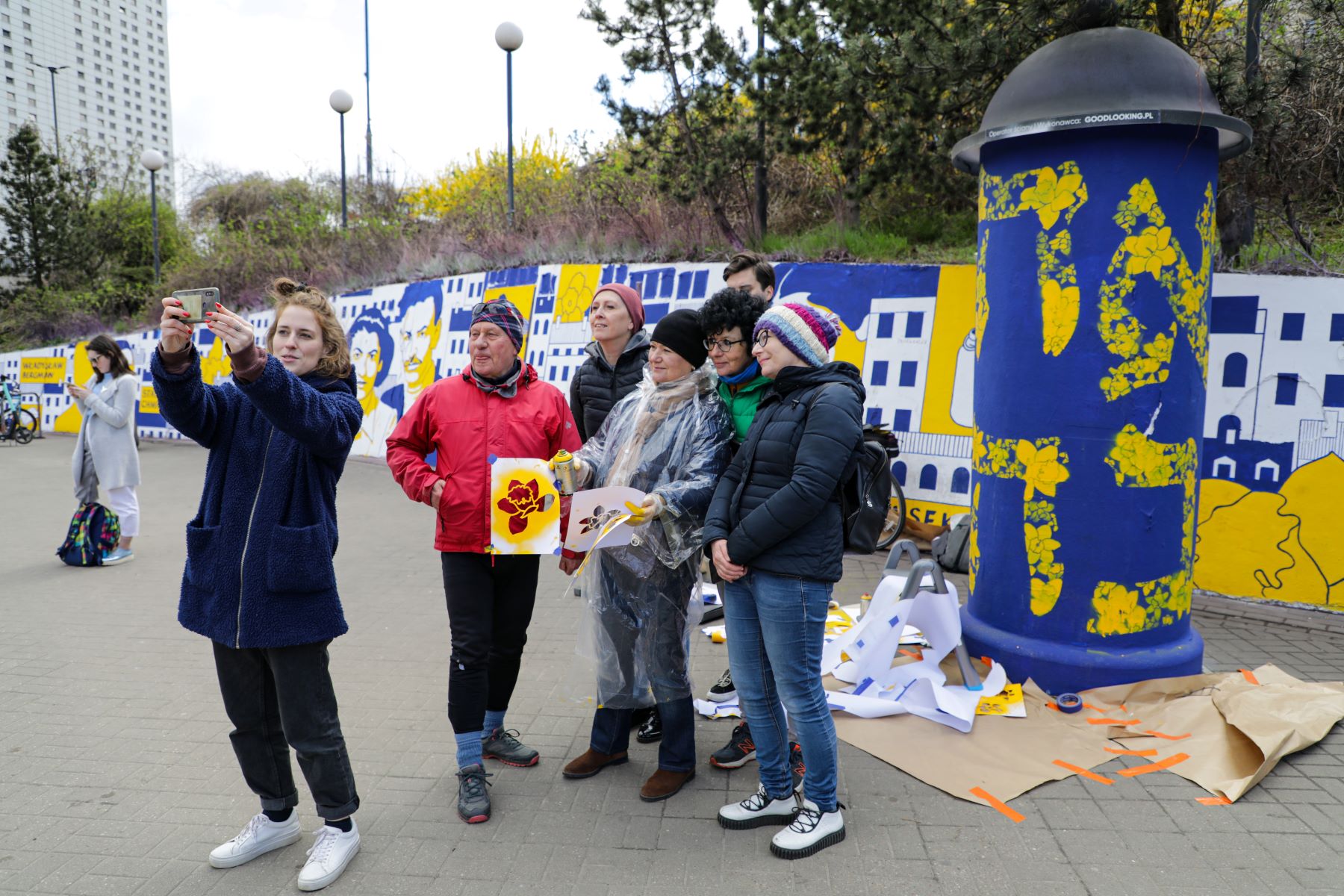 POLIN Museum's mural commemorates the 79th anniversary of the outbreak of the Warsaw Ghetto Uprising and thirteen individuals for whom love for another human being was an utmost treasure, also during wartime.
Exposition: between 18 and 30 April 2022
Location: the wall next to the entrance to the Centrum metro station (the so-called "patelnia" square)
Mural design: Adam Walas (murale.net)
Execution: Good Looking Studio with POLIN Museum volunteers
Dr Anna Braude-Heller (6 January 1888 – April 1943, Warsaw) was a medical doctor, paediatrician, head of the neonatal ward at the Bersohn and Bauman Hospital in Warsaw. She was also member of the Bund, posthumously awarded the war order of Virtuti Militari. Referred to as "Chief Doctor" by her associates, Dr Braude-Heller was a social activist helping those in need, particularly disadvantaged children. Before the war, together with Dr Lichtenbaum, she organised the "Drop of Milk" campaign at the Krasiński Garden to support mothers who had problems with breastfeeding. 
From 1940, the Bersohn and Bauman Hospital headed by Dr Anna Braude-Heller was part of the ghetto and the majority of its patients were children who had contracted typhoid fever or suffered from injuries or extreme malnourishment. It was the latter group that made Dr Braude-Heller undertake clinical research on hunger disease in 1942. The results of this research have been preserved till today despite the fact that almost all the doctors working on it perished.
Dr Braude-Heller headed the Health Committee at the Judenrat. She was assigned the most difficult task by the hospital staff—she had to distribute the "numbers of life" issued by the Germans (those who were in possession of the said "numbers"—white pieces of paper with a stamp—were not deported by the Nazis to death camps). 
On 11 September 1942, most of the hospital's medical staff and patients were deported by the Nazis to Treblinka II extermination camp. Even though Dr Braude-Heller had the opportunity to escape to the so-called "Aryan" side, she decided to stay at the hospital with her patients. In all likelihood, she perished in the first days of the Uprising while hiding in a bunker at 6 Gęsia Street with the patients and some of the medical staff. Her symbolic grave is located at the Jewish cemetery on Okopowa Street in Warsaw. 
For more information, please go to Virtual Shtetl website >>
Stefania Wilczyńska, or Mrs Stefa (26 May 1886, Warsaw – 6 August 1942, Treblinka) was a pedagogue, lecturer, from 1912 head of the Orphans' Home for Jewish children at 92 Krochmalna St (today 6 Jaktorowska St). Mrs Stefa co-created the Home with Janusz Korczak. Together, they employed novel pedagogical methods. In the 1930s, she took several trips to Palestine; in 1938, she worked with children in the kibbutz Ein Charod. That year, she was granted permission for the "Aliyah", i.e. settlement in Palestine, but instead she returned to Warsaw on 2 May 1939 upon hearing the news of the possible Nazi attack on Poland. Once the war had broken out, Mrs Stefa ran a first aid station at the Orphans' Home helping people injured during the bombings. In the ghetto, she made every effort to preserve a semblance of a normal life for the children under her care. She offered them full attention they so needed. Despite numerous opportunities to leave the ghetto and settle on the "Aryan" side, she decided to stay with the children. In early August 1942, Stefania Wilczyńska and Janusz Korczak along with the Orphans' Home entire staff and its little residents, were deported from Umschlagplatz to Treblinka and murdered in a gas chamber. 
For more information please go to Virtual Shtetl website >>
Alina Margolis-Edelman (18 April 1922, Łódź – 23 March 2008, Paris) was a medical doctor and social activist. In the Warsaw ghetto, she was a student and later a nurse at the Jewish Nurse School run by Luba Blum-Bielicka. Thanks to her mother's efforts, Alina managed to cross to the so-called "Aryan" side. Awarded the Cross of Valour for her participation in the Warsaw Uprising, after the war Alina trained as a paediatrician, specializing in treating children with diabetes. After the events of March '68, Alina moved together with her children to France, where she stayed for the rest of her life. She was actively engaged in the Medicins Sans Frontier organisation, and she co-created Medicins du Monde. She worked in hospitals all across the globe, i.a. San Salvador and Afghanistan, as well as on hospital ships helping Vietnamese boat people. She was a co-founder of the Polish-French SOS Aide aux Malades Polonais association which looked after terminally ill patients residing in Poland. She engaged in helping disadvantaged children—in 1991 she founded Dzieci Niczyje Foundation (today Dajemy Dzieciom Siłę).
Pola Lifszyc (? – 1942) was a student at a TSISHO school (Central Yiddish School Organisation) and a member of SKIF (Socialist Children's Union). Being a teenager herself, Pola ran a theatre for children in the Warsaw ghetto. She directed two plays performed by children. Marek Edelman recalls Pola in Hanna Krall's book titled "Shielding the Flame", stressing that it's of utmost importance to remember people who, like Pola, died tragically, often sacrificing their lives in the name of the love for their nearest and dearest: 
"Pola barged in, saw that her mother was gone—mother was being led to Umschlagplatz in a column—and so she ran, alone, all the way from Leszno [St] to Stawki [ST]—her fiancée gave her a lift in a rickshaw so that she could catch up with the column—and she made it. At the last moment, she joined the crowd and managed to enter the wagon together with her mother…., Pola Lifszyc, the one who followed her mother… Who has heard of Pola Lifszyc? After all, it was her, Pola. She should have crossed to the 'Aryan' side—she was young, pretty, not looking Jewish in the slightest. Her chances of survival were a hundred times higher."
We do not know how Pola Lifszyc died, nor do we have any photo of her.
Maria Ajzensztadt (June 1921/1922 – 9 August 1942, Warsaw) — a talented singer dubbed 'a nightingale from the ghetto' was the daughter of Dawid Ajzensztadt, composer and conductor of the Choir at the Great Synagogue on Tłomackie Street. Her performances were attended by crowds—thanks to Marysia's beautiful voice, people were able to forget about the grim reality of the life in the ghetto at least for a while. Maria most often performed at the Femina Theatre on Leszno Street which housed an audience of nearly 1,000 people. She also performed as a soloist with the symphony orchestra headed by Szymon Pulman, her teacher in the ghetto, and Marian Neuteich. 
Maria perished during the first great deportation action in August 1942. It is highly likely that she could have left the ghetto and hide on the so-called "Aryan" side, but she chose to stay with her parents who were ordered to check in at Umschlagplatz. According to witness accounts, when Marysia's parents entered a cattle wagon, there was no more space left inside. Marysia was shot dead while trying to squeeze her way in.  
For more information please go to Virtual Shtetl website >>
Tsivia Lubetkin "Celina" (9 November 1914, Byteń – 11 July 1978, kibbutz Lokhame ha-geta'ot) and Yitzhak Zuckerman "Antek" (13 December 1915, Vilna – 17 June 1981, kibbutz Lokhame ha-geta'ot) – Zionist actvists and prime movers behind the Anti-Fascist Bloc and the Jewish Combat Organisation (ŻOB). Shortly before the Uprising had broken out, Yitzhak was acting as a liaison between ŻOB and the Home Army on the so-called "Aryan" side. Tsivia fought in the Uprising, spending its last days in the bunker at 18 Miła Street. On 10 May, along with a group of fighters, she reached Prosta Street through the sewers. The couple also fought in the Warsaw Uprising and, following Warsaw's liberation in January 1945, they engaged in rebuilding the Zionist movement among the survivors. They became members of the Presidium of the Central Committee of Jews in Poland and in 1949 they founded the Kibbutz of the Ghetto Fighters in Galilee and the Yitzhak Katzenelson Museum of the Ghetto Fighters (Hebr.: Beit lokhame ha-geta'ot), where each year on 19 April, a commemoration was organised on the successive anniversaries of the outbreak of the Warsaw Ghetto Uprising. In 1961, both Tsivia and Antek appeared as witnesses at the Adolf Eichmann's trial.
For more information please go to Virtual Shtetl website and read about: Tsivia Lubetkin and Yitzhak Zuckerman >>
Stanisław Chmielewski (1909-1992) was granted the title of Righteous Among the Nations in 1983. He rescued or helped rescue over twenty people, including Leon Płocker and Janina Bauman with her mother and sisters. In 1961, Stanisław wrote an account which has survived and is now kept in the Jewish Historical Institute collection. In it, he wrote that in the first days of the occupation he was in Lublin, bidding farewell to his beloved Władysław Bergman. The couple made a pledge—they were to look after their mothers. They never met again—Władysław was killed in the battle of Tobruk and is buried at the Heliopolis Military Cemetery in Cairo.                            
Before his return to Warsaw towards the end of October 1939, Stanisław visited Vilna. He brought to Warsaw the letters his Jewish friends had written to their families (among them, the parents of Paweł Hertz). After the ghetto had been established, he helped to deliver food. He then organised Aryan papers and safe hideouts outside the ghetto wall. He rescued Władysław's mother Sara Bergman (Stefania Zagórska) and his sister Maryla Bergman (Maria Nowak). Janina Bauman used to mention Stanisław at every possible opportunity while talking about her experiences during the occupation. She wrote explicitly about the love between Stanisław and Władysław without hiding their psychosexual orientation. Stanisław was one of the last people to help the Bauman family before they left Poland in 1968:
"Among the people who visited us [Zygmunt and Janina Bauman and their three daughters – JO] was Staś Chmielewski, my guardian from the time of the Nazi occupation. I had no contact with him for many years. Now he has reappeared, ready—just as he had been once before—to help us in this difficult situation." ["Nowhere on Earth"]
Almost 80 years after the war, Stanisław Chmielewski's biography remains virtually unknown. Until now, few people have shown interest in the story of a homosexual Pole selflessly rescuing Jewish families, thus fulfilling a promise he had once made to his beloved. Perhaps—as is the case with other queer stories from the wartime—it was simply a matter of radically suppressing the "queer" potential encoded in the story. The time has finally come to reclaim this biography. 
Written by Dr Joanna Ostrowska.
Gela Seksztajn (? ? 1907 – 21 April 1943, Warsaw) and Izrael Lichtensztajn (? ? 1904, Radzyń Podlaski – ? April 1943). Gela was a painter and a teacher of drawing—she produced watercolours, drawings and oil paintings. She exhibited her works at the Association of Jewish Artists and the Jewish Society for the Promotion of Fine Arts. Izrael was a teacher and a Zionist activist. The couple married in 1939 and soon afterwards their daughter Margolit was born.
Imprisoned in the Warsaw ghetto in 1940, Izrael was active in the Oyneg Shabes organisation for which he collected documentation on the underground and public education he was providing for the ghetto inhabitants. In the ghetto, Gela continued to paint and give drawing lessons. In 1942, during the great deportation action, Izrael Lichtensztajn together with two of his students—Dawid Graber and Nachum Grzywacz—hid part of the Ringelblum Archive documents. Israel made sure that the box contained 309 watercolours and drawings by his wife, thanks to which they have been preserved to this day. In the box buried at 68 Nowolipki Street, he also hid his will and that of his wife together with her short biography. In all likelihood, the entire family perished at the beginning of the Warsaw Ghetto Uprising.
"I want people to remember my wife, Gela Seksztajn, a talented painter whose many works have not yet seen the light of day. Gela has worked with children as a pedagogue and teacher for three wartime years. She produced decorations and costumes for children's plays, she was granted awards. This time round, we're getting ready to die," wrote Izrael Lichtensztejn in his farewell letter (Ringelblum Archive).
For more information please go to Virtual Shtetl website and read about: Gela Seksztajn, Izrael Lichtenstein >>
Irena Sendler (15 February 1910 – 12 May 2008, Warsaw) and Adam Celnikier (?.?.1912 - ?.?1961). According to Anna Bikont, Adam Celnikier (Stefan Zgrzembski) was the love of Irena Sendler's life. There's scarce information on his life before the war—we know he hailed from an affluent family and graduated in law. Irena Sendler, a social activist, head of the children's department at "Żegota", Righteous Among the Nations, met Adam before the war.
When the Warsaw ghetto was established, Adam Celinikier was imprisoned within its walls. He taught young people as part of the house committee, he ran a discussion club and enlisted volunteers to distribute the press. We do not know how often he and Irena saw each other in the ghetto. She was able to move freely around the ghetto thanks to a pass—she delivered medicines, food, and cleaning supplies; after some time, she also rescued people stuck inside the ghetto walls leading them to the so-called "Aryan" side. During the great liquidation action in 1942, Irena Sendler managed to persuade Adam Celnikier to leave the ghetto, and from October 1943 they were hiding together in various flats in Warsaw. As Adam Celnikier had distinctive Semitic looks, Irena used to bandage his face before going out, as if he had a toothache. They survived the Warsaw Uprising together and—despite being denounced several times—they managed to survive the war and got married soon after it ended. Alas, their love did not stand the test of time.                        
With students of secondary schools in mind, Anna Bikont produced a reportage which presents the figure of Irena Sendlerowa and her relation with Adam Celnikier.
We would like to thank Warsaw Municipal Office for allowing us to use the space.