Jewish Cultural Heritage
czerwiec 2020
Jewish Cultural Heritage Project - First Three Months Online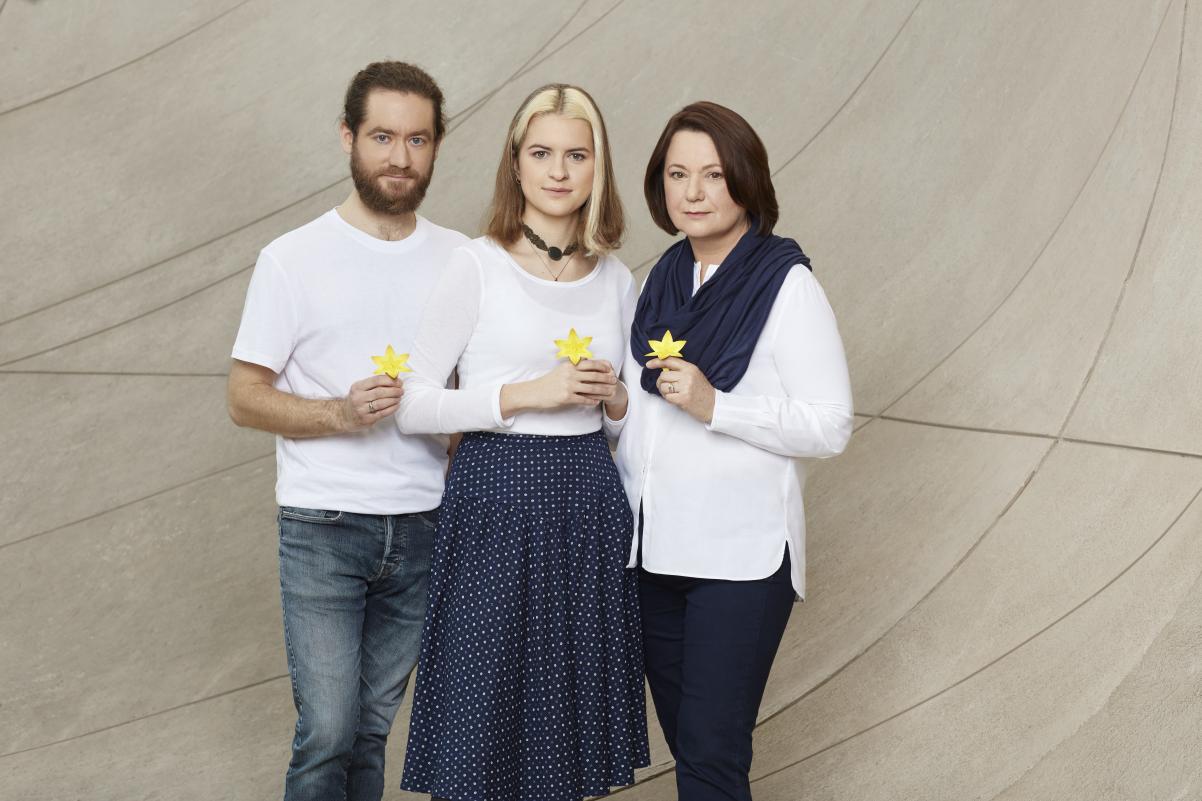 On 2 March 2020, POLIN Museum, together with its partners – The Norwegian Center for Holocaust and Minority Studies, The European Wergeland Centre, The Falstad Centre as well as the Jewish museums in Oslo and in Trondheim, and the Emanuel Ringelblum Jewish Historical Institute in Warsaw – began a long-term "Jewish Cultural Heritage" project [Żydowskie Dziedzictwo Kulturowe - ŻDK], supported by the EEA Grants and the state budget. In mid-March, the Museum and its partner institutions were forced to close due to the COVID-19 pandemic. Over the past three months, we have been reaching out to our audience through the Internet.
From 2 March to 1 June 2020, the "Jewish Cultural Heritage" project scored 3,358,800 views through social media, with 1,446,270 page views.
On 23 March, we launched a series of educational workshops for school children and youth, run live in the Internet. Within one month, we transferred the nationwide social and educational "Daffodils" campaign to the Internet. It took place on 19 April, the anniversary of the outbreak of the Warsaw Ghetto Uprising.
To celebrate the International Children's Day (1 June), we conjured a virtual kingdom of games and activities for our youngest audience. Online programs for adults also proved very popular; they included the "Jewish ABC" series of meetings with Judaism, virtual guided tours of the core exhibition titled "1000-Year History of Polish Jews", as well as Jewish cuisine online courses. The Museum's Web portals, run partially thanks to the Jewish Cultural Heritage project, also noted a record number of session over the past few months.
On 26 June, POLIN Museum will open its new temporary exhibition titled "Here is Muranów", dedicated to the history of the Warsaw district which used to be a centre of Jewish life before the Holocaust. During German occupation, it was turned into a ghetto; today, it is the home of our Museum.
The JCH-funded projects to accompany the exhibition include lectures and discussions, workshops for schools as well as performances by the POLIN Choir. In June, we will also invite the public to the online edition of our summertime "Leśmian's Meadow" project, which will include discussions about books and more. In July and August, we are planning activities in the "real world", e.g. small-group walks with POLIN guides as well as open-air Sunday afternoon poetry events.
Thanks to our online activities, we are able to reach small towns and to invite many new participants who, until recently, didn't have an opportunity to participate in our programs. More about selected programs below..
The Social-Educational "Daffodils" Campaign
On 19 April, for the eighth time, we organised the social-educational "Daffodils" campaign, commemorating the anniversary of the Warsaw Ghetto Uprising. As always, the campaign was accompanied by the "Remembering Together" slogan. This year, we DID remember together, albeit in a different, virtual fashion.

One had a possibility to join the campaign from all corners of the world, in a variety of ways – e.g., by pinning on a virtual daffodil, by using the hashtags #Remembering Together or #DaffodilsCampaign in social media, by viewing video-walks around former Warsaw Ghetto memorial sites or by listening to lectures, by listening to fragments of books read by POLIN Ambassadors and to a concert.

This year, 934 schools, libraries and other educational institutions from all over Poland joined the campaign. Local partners declared more than 92,000 participants. We prepared a rich array of online programs and educational material for them. 622 teachers participated in webinars designed as preparation for the campaign which attracted 2,835 volunteers, of whom 534 took part in the training sessions.

The campaign had a huge outreach:

19 April hashtags #Remembering Together and #DaffodilsCampaign were used 1.5 million times
polin.pl website boasted 62,000 page views;
posts on Facebook, Instagram and Twitter had 147,287 "likes," were shared 14,262 times and attracted 3,978 comments;
15,322 paper daffodil templates were downloaded, and
130,000 stickers with daffodils were distributed through newspapers.
Workshops for school children and youth
From 23 March to 30 May, almost 9,000 students took part in 414 online workshops, including 97 groups from places with less than 20,000 inhabitants. There were also 6 groups of children with disabilities. Classes were conducted by experienced educators.

Teachers were highly appreciative of these workshops, praising them in online surveys. Positive comments focused on:

"the preparation of the educators – checking where the group is from and referring to local history, using the leading educational applications such as Mentimeter and Quizziz;
"the program was adjusted to children's age, using interesting and diverse materials", and
"an interesting and dynamic way of conducting workshops, engaging children to active participation".

As many as 36% of the surveyed teachers took part in POLIN's educational offer for the first time.
International Children's Day with POLIN Museum celebrated all across Poland
Instead of the traditional picnic marking the Children's Day, we conjured up the virtual kingdom of King Matt.

On the webpage dziendziecka.polin.pl, we shared many games, quizzes and other activities. There were also: a concert aired on the POLIN Radio and well-known actors reading excerpts from the books by Janusz Korczak. Together with Warsaw's Nowy Teatr [New Theatre], we produced the online premiere of "Peter Pan" directed by Łukasz Kos. It was the first online performance for children in Poland, with dialogue translated into Polish sign language by two people.

Over two days, we attracted over 16,000 viewers from all over Poland (71% of surveyed participants were from outside of Warsaw). The Internet-users praised: "Fine tasks. Entertaining and engaging not only for children—also a sheer joy for parents."
Viewing sessions on the POLIN Museum portals – Virtual Shtetl and Polish Righteous
The "Virtual Shtetl" portal has once again confirmed that it belongs to the prestigious group of world's largest websites devoted to Jewish history and genealogy. Part of the "Jewish Cultural Heritage" project, the portal collects and provides information on the Jewish communities living in the territories which once formed the Polish-Lithuanian Commonwealth. It also documents events that take place in the contemporary Polish-Jewish world, as well as in the Polish collective memory on the subject of Jews.

The "Polish Righteous" portal publishes more than 1,000 stories about over 5,000 people – both the Righteous who saved Jews during the Holocaust, and the Rescued Jews. It does not evade difficult questions and discussions. As part of the "Jewish Cultural Heritage" project, we continue to develop our digital collection, focussing on witness accounts concerning the history of the Jewish community in Poland.

Over the period of three months (2 March – 30 May 2020), the two above-mentioned portals recorded 935,400 page views. During that period, "Virtual Shtetl" noted 771,245 page views. The "Polish Righteous" website recorded 164,155 page views.