Tomasz Pietrasiewicz wins inaugural POLIN award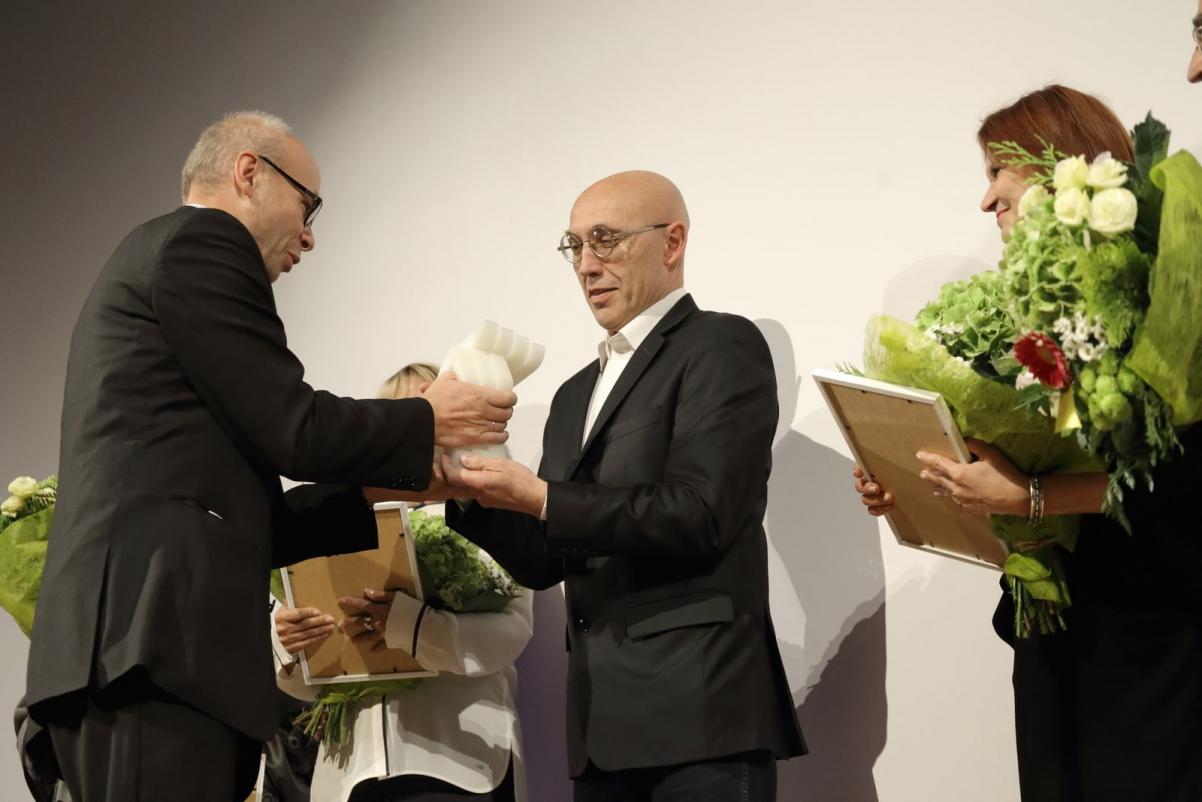 The inaugural POLIN Award was presented at a gala event celebrating the first anniversary of POLIN Museum's Core Exhibition. The Award is presented to a person who or an institution which, through their activities, preserves the memory of Polish Jews and contributes towards mutual respect amongst Poles and Jews, and communities in Europe and around the World.
This year's Award was presented to Tomasz Pietrasiewicz, founder and director of "Brama Grodzka – Teatr NN" Centre, which has been active in Lublin since 1998.
Prof. Dariusz Stola, Executive Director of POLIN Museum, presents the Award to Tomasz Pietrasiewicz (photo: K. Bielawski)  
In his praise of the Centre, Marian Turski, Chairman of the Museum Council and POLIN Award Committee, said, "The Centre carries out a range of educational and artistic projects dedicated to the legacy of Lublin Jews. The Brama Grodzka (Grodzka Gate) which, before the War linked Christian and Jewish cultures, has been symbolically restored to its former role thanks to Tomasz Pietrasiewicz's efforts. It is a place for the permanent preservation of the memory of the city's common Polish-Jewish past.
Other Award nominees included Jan Jagielski, Ośrodek "Pogranicze – Sztuk, Kultur, Narodów" ("Borderlands Arts, Culture and People" Centre), Joanna Podolska and Stowarzyszenie Dzieci Holocaustu (Children of the Holocaust Association.  The Gala was attended by representatives of the cultural world, communal organisations and government. The event was addressed by Małgorzata Omilanowska, Minister of Culture and National Heritage, Jarosław Jóźwiak, Deputy Mayor of Warsaw, Piotr Wiślicki, President, Jewish Historical Institute in Poland, and by Prof. Dariusz Stola, Executive Director of POLIN Museum.
The presentation of the Award was followed by a concert featuring Israeli mandolin-player Avi Avital, accompanied by the Polish Radio Chamber Orchestra conducted by  Anna Duczmal-Mróz.