Report: Finale of the 4th Edition of the New Jewish Music Festival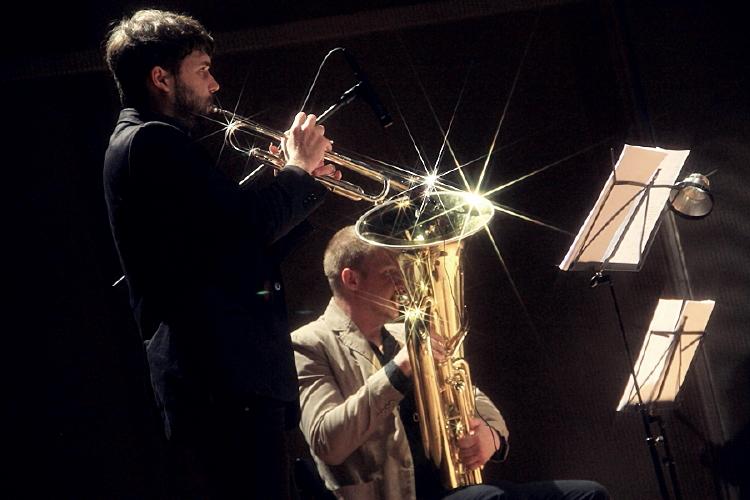 12th May was a finale day of the 4th edition of the New Jewish Music Festival at the Museum of the History of Polish Jews.
Program:
12 PM – 2 PM
"Tzlilim BeTzvaim – Painted notes"
Workshops for kids (from age 5) combining art with music. We will take a musical journey into Jewish culture. We will attempt to assign colors and shapes to notes of Jewish music. We will play with the hues of sounds, create artistic installations, learn about Klezmer musical scales and about Jewish holiday traditions, accompanied by music played live by the band Shtetl.
The workshop is organized by JCC Warsaw within the Noew Jewish Music Festival.
Reservations required: [email protected]
7.30 PM
Riverloam Trio "Babcia's Memory"
Mikołaj Trzaska's new musical endeavor with British jazz musicians Olie Brice and Mark Sanders. The project was prepared specially for this year's edition of the festival.
Inspired by Mikołaj and Olie's personal, family stories and memories, they recall old Jewish songs once sung to them by their grandmothers (Babcia – grandmother in Polish). The magical powers of the songs were so strong, that they made two stars of the improvised music scene return to them after many, many years. The Riverloam Trio will play their own interpretations of the songs, deeply rooted in jazz improvisation, at times radically so, but not without lyrical subtlety. The concert will be the soundtrack of a magnificent sentimental journey.
Mikołaj Trzaska- saxaphone + bass clarinet
Olie Brice – bass
Mark Sanders – drums
The project was prepared specially for the New Jewish Music Festival.
Horny Trees Big Band "Great Jewish Songbook"
A project by Paweł Szamburski, outstanding clarinetist and composer, leader of many alternative bands. Paweł, with his characteristic musical playfulness, creative lack of humility in the face of canons and "twisted", even volcanic expression, presents a fresh interpretation of famous Jewish hits from America of the 50s' and 60s' of the 20th century – songs made famous by the likes of the Barry Sisters, Connie Francis, Ella Fitzgerald, Nina Simone and Tom Jones. Ola Bilińska and Joanna Halszka Sokołowska will sing. The band, usually consisiting of three members, will perform in a special ensemble – a 7-person big band, with five musicians and two singers.
PaulSzamburski – clarinets
Hubert Zemler-drums
Maciej Trifonidis-Bielawski – guitar
Casper Szreder – trumpet
Peter Janiec – tube
Ola Bilińska – vocals
Joanna Halszka Sokołowska – vocals
The project was prepared specially for the New Jewish Music Festival and the Museum of the History of Polish Jews.