Leśmian's Meadow – we're back on the meadow! … and remain online, too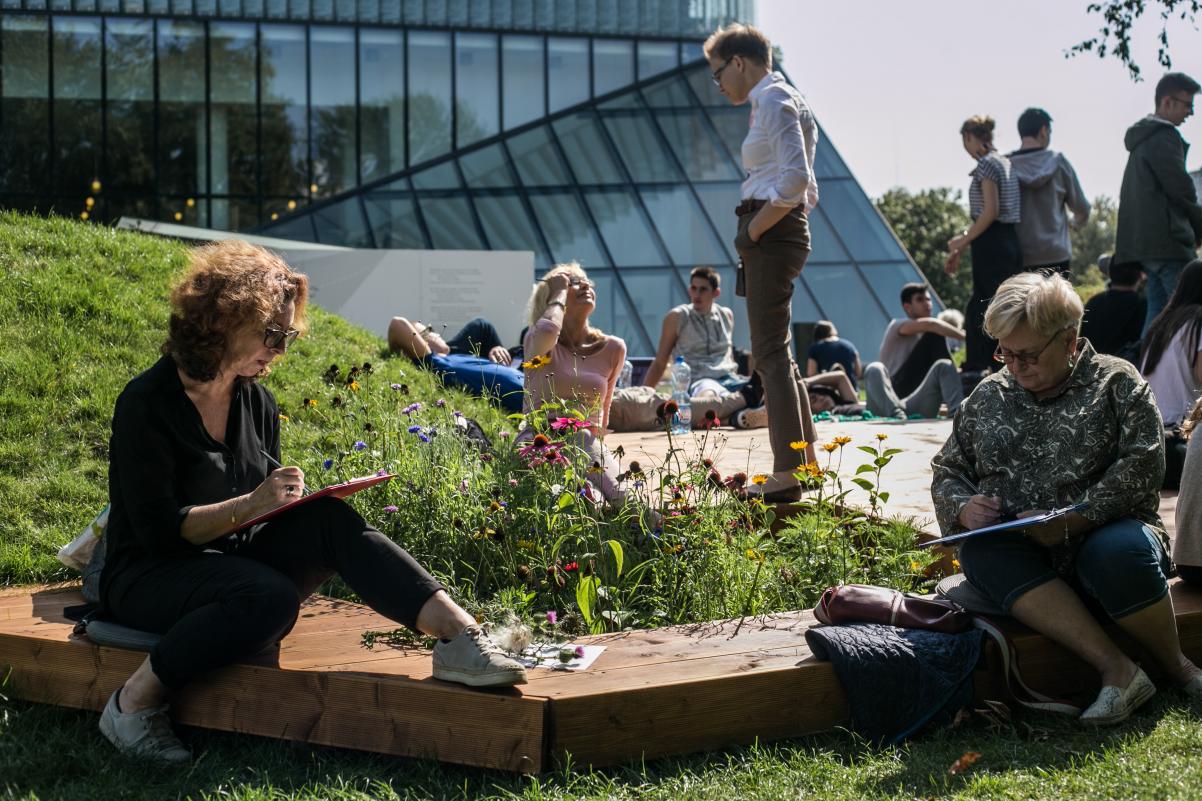 In July and August, we will be most happy to venture out to the green and blossoming "Leśmian's Meadow" in front of the POLIN Museum building. At the same time, we do remember of our online audience from all over Poland waiting for us on social media. We will continue to organize virtual events as well, thinking of all the people from outside Warsaw who wish to participate in the project.
We are in for lots of blissful moments with literature and poetry read out in the sunshine on the green grass, as well as joyful movement classes held in the shadow of the trees surrounding our Meadow. Together, we will look after our "Muranów Meadow" under the supervision of Łukasz Skop, an urban gardener. During the meetings with experts in the series Eco-City we will learn how to live more ecological life while respecting the nature that surrounds us.
We will also help you take care of your physical prowess and find the balance between the body and the soul. From mid-July, we invite all seniors and people who wish to improve their mobility to do gymnastics with us according to Moshe Feldenkreis' method. Those who like more demanding exercise, but are also after relaxation, should join the yoga class on Fridays (from 17 July onwards). This year, Natalia Grądzka will be your yoga master.
Following the enthusiastic response of amateur poets to our online project "Warsaw talking! —Time for Poets" we decided to create a space for masters of words to meet face to face with the audience. In July and August, the poetry slam on the Leśmian's Meadow will be hosted by a well-known film and TV actor, Michał Meyer.
We will continue our online meetings with Sylwia Chutnik and Karolina Sulej within the series Barłóg Literacki [Literary Pit] as well as outdoor, with the contemporary writers during our Sunday Afternoons with New Poetry. In July, Barbara Klicka will be our guest.
Clearly, we mustn't forget about the great poet himself—our patron Bolesław Leśmian. POLIN Museum guides will take you for walks in the footsteps of the poet, showing you streets, parks and cafes where he was a regular guest. People from outside of Warsaw will be able to join the walk online.
Leśmian will materialize by the entrance to his Meadow in the form of a mural dedicated to him and created by a group of young people at a workshop with street artists: Adam Walas and Łukasz Prokop.
The Eco-City series will continue online in July; in August, it will move to the outdoor. We will find out how to produce our own composting unit, how to live slowly, consciously and healthily. We will also talk to Staszek Łubieński, author of Książka o śmieciach [A Book on Rubbish], on the danger posed by hyperproduction of rubbish.
We also invite you to more meetings within the Jewish ABC series. In July, Piotr Kowalik will host Alexander Ben-Zvi, the Ambassador of the State of Israel in Poland. In August, we will meet outside to participate in the Israeli Dance class.
Thanks to the cooperation with the Kamera Dawida Foundation we will watch online films dedicated to the Jewish subjects. Film critics will tell us why these and no other titles are definitely worth seeing, and what is on the top of the tops of world cinema at the moment.
To conclude this year's edition of Leśmian's Meadow and to bid farewell to the summer, we will set off on a musical journey to the old world of Jewish culture. Together with talented musician and clarinettist Paweł Szamburski, we will invite you to a very special online concert. Paweł will perform his own interpretations of Jewish music, mainly from Moshe Beregovski's collection, as well as from the rich heritage of the Modrzyc Hasidic dynasty.
Let us all put a spell on the weather and meet up on Leśmian's Meadow!
Practical information regarding outdoor events 
All outdoor events are subject to online registration.
Each participant is obliged to read the regulations of outdoor events before participating in the classes/workshops/meetings. The regulations are available on the website www.polin.pl and on the event site.
Upon arrival, please complete the personal forms received from the event coordinator. There is a limit of places - only those who have been registered in advance may take part in the event. The organizer may ask the participant who does not to follow the sanitary recommendations out.
Please bring your own mats to sports activities. You will be able to use a disinfectant and - in case of manual workshops - disposable gloves.
We recommend covering your nose and mouth during all outdoor events. Please keep a distance of two meters from other participants.
 
Leśmian's Meadow
In 2017, to mark the 140th anniversary of Leśmian's birth and 80th anniversary of his passing, we launched "Leśmian's Meadow", a project inspired by his poetry. The outdoor installation located at a green square in front of POLIN Museum in Muranów has grown to become a favourite venue for meetings as well as for cultural and recreational events.

www.eeagrants.org, www.norwaygrants.org, www.gov.pl
Media partner