Anniversaries & holidays
27.04.2022
Yom HaShoah (Holocaust Remembrance Day)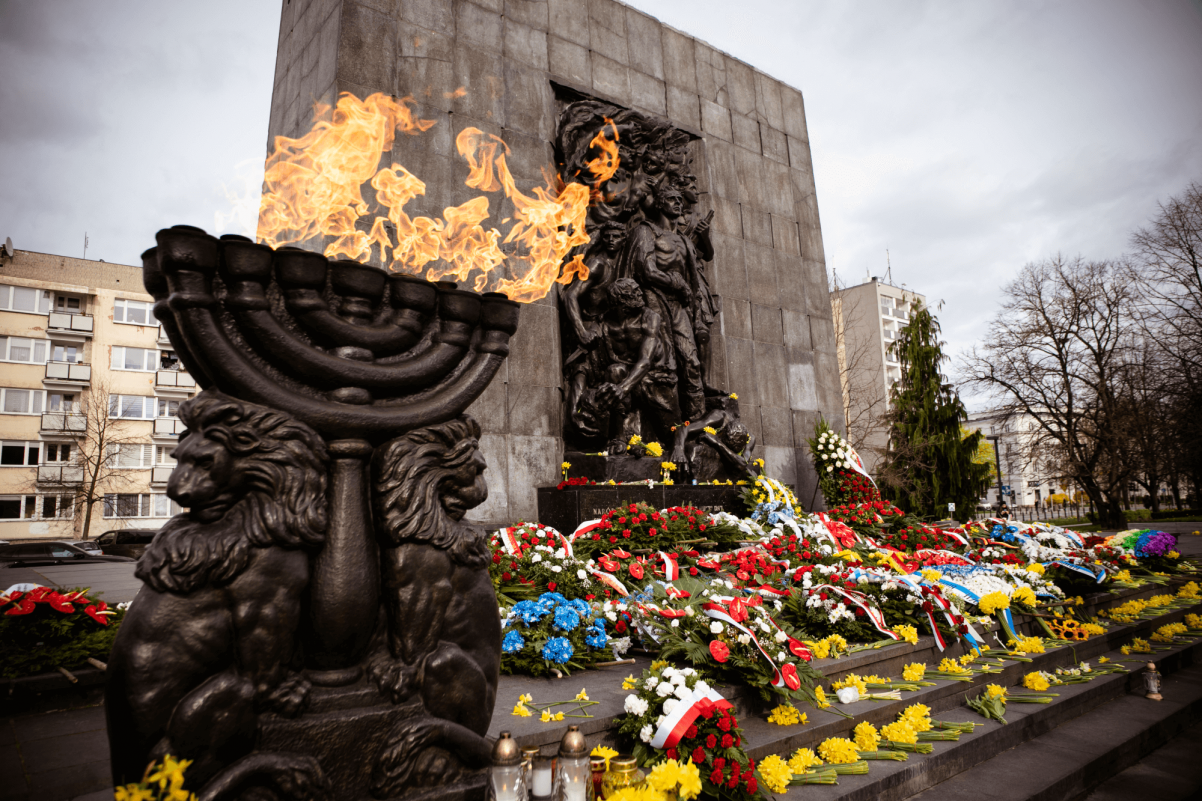 On 27th April, Israel will observe its Yom HaShoah national holiday – Holocaust Remembrance Day. It is second only to International Holocaust Remembrance Day (27th January), a day devoted to the tragedy of the Holocaust. 
Yom HaShoah, following the 19th April anniversary of the outbreak of the Warsaw Ghetto Uprising, is a time to commemorate the Jewish ressistance movement in occupied Europe. The full name of the day is Yom Hazikaron laShoah ve-laG'vurah, a Day of Remembering the Holocaust and Acts of Courage. On that day, sirens sound in Israel and public life pauses, for a moment, in tribute to Jews who died in German-occupied Europe. In recent years, it has become an opportunity to to remember, not only participants in the armed underground, but also those Jews who fought the occupier in a different, but no less important manner.
"Today, when much is said about the saving of Jews by Poles, it is forgotten that, most of all, we were saved by Jews, Jewish parents, Jewish grandmothers and Jewish grandfathers. They were our front-line rescuers. These Polish rescuers were also very important, but they came later," stressed Katarzyna Meloch, who survived the Holocaust as a child.
At POLIN Museum, we commemorate Jews, who helped other Jews on the "Aryan side", by documenting their stories in a thematic section of our Polish Righteous website.
See the Thematic Section on the Polish Righteous webiste: Jews Helping Other Jews on the "Aryan Side" >> 
We present selected stories of help, including those of Stanisław Gombiński – a Jewish policeman, Feiga Peltel-Międzyrzecka (Vladka Meed) – a courier of the Jewish Combat Organisation (ŻOB), Helena Merenholc – a liason of the "Żegota" Council to Aid Jews, or Maurycy Herling-Grudziński (brother of famous writer Gustaw) – found of the "Felicja" cell, which provided help to one-fifth of all Jews hiding in occupied Warsaw.
These people, named above, have never received the title of Righteous Among the Nation, since that award is presented, by the Yad Vashem Institute, only to non-Jews. However, at POLIIN Museum, we believe that participants in Jewish self-help also belong to the Righteous, the term being understood in a broader and universal sense – people, who opposed the totalitarianism of Nazi Germany and who stood up for dignity and human rights.