Audio guide for families – new at POLIN Museum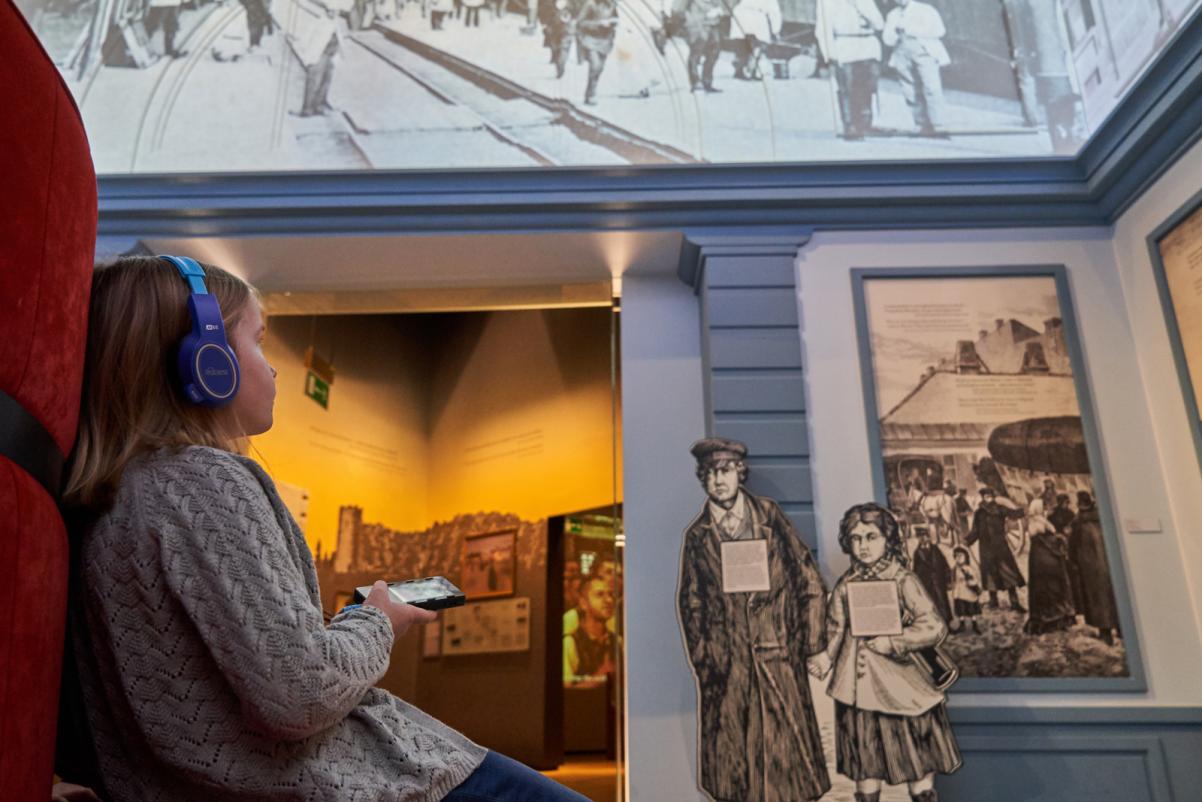 From 8 February 2020, POLIN Museum offers families a new method of touring the core exhibition. You loan a small device, put the headphones on and set off on a new adventure, guided by the voice of actor Wojciech Malajkat. Many tasks and surprises await you on the way.
While touring the six galleries of the core exhibition you travel back in time—beginning a thousand years ago, when first Jews arrived in the Polish lands, and ending in the interwar period, after Poland regained independence.
You will visit a Jewish home and a synagogue, and find out what Polish Jews used to eat on Shabbat. You will get acquainted with old-time professions, you will design your own coin and print a page from an old book on a real printing press.
Guided by the narrator, you will discover how the world was changing throughout the centuries. On your way, you will listen to tales from princely courts and to conversations held at artisan workshops or in the streets of old towns. You will hear stories of collective work, friendship, family, Jewish holidays and customs. 
The audio guide is addressed to children aged 6-12 and their adult guardians, but it can also be used by younger children.
What are the first reactions of our visitors testing the audio guide? 
My daughter asked me: Mum, why has it ended already? says Katarzyna, mother of Wanda and Ignacy. Mine asked if we could take the tour again, says Beata, mother of Weronika. They all toured the core exhibition with the audio guide.
The device proved to be easy to use: My daughter didn't ask any questions, she operated the device intuitively, adds Beata, Weronika's mother. Using the device is totally easy! Krystian, father of Antoni, agrees.

Touring the core exhibition with the audio guide lasts approximately 1.5 hours. It is brand new family experience—a great way to learn about the heritage of Polish Jews, perfect for the first visit at POLIN Museum. Most likely it won't be the last, as the tour leaves the visitors eager for more. It is absolutely worthwhile to come back and discover more fascinating stories on your own!
Audio guides for families are available in Polish and English, and can be loaned at the Museum ticket desk (for the price of 10 PLN). The audio guided tour does not include the Holocaust and Postwar Years galleries.
Project co-organizer: Association of the Jewish Historical Institute of Poland

Project support: Koret Foundation, The Louis and Anne Abrons Foundation