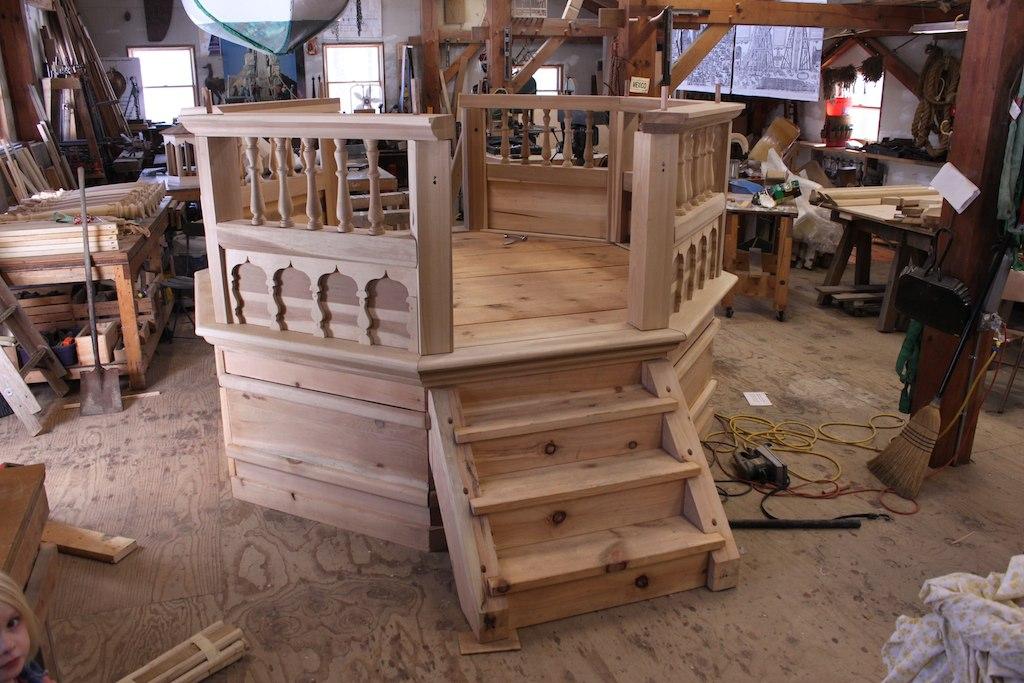 Gwoździec Re!construction: Bimah Project
The Association of the Jewish Historical Institute of Poland with Handshouse Studio and the Museum of the History of Polish Jews are once again organizing painting workshops related to the project 'Gwoździec Re!konstrukcja'. In August 2013, a group of volunteers along with artists and historians will recreate polychromies covering a wooden bimah, which was created during educational workshops conducted by Handshouse Studio in 2006.
A bimah is a special platform which is usually elevated and located in the center of a synagogue. During services fragments of Torah and some prayers are read while standing on the bimah.
In the Core Exhibition, the bimah will stand under the ornately decorated ceiling of the replica roof of the Gwoździec synagogue, which was recreated by volunteers and experts during construction and painting workshops in 2011 and 2012.
Workshop participants will once again have the opportunity to work with an international team and create a piece of the Museum's Core Exhibition, as well as and take part in special events including field trips related to Jewish history and culture.
In March 2013, the roof of the synagogue along with decorative vault were installed. The process of collecting and developing the documentation of the timber roof truss lasted nearly eight years. In 2011 and 2012 took place two editions of workshops, during which nearly 400 volunteers and experts from all over the world worked on the replica. In total, there were created more than 300 items, 29 sections forming the walls of the roof, plates with zodiac signs, 13 sections forming the culmination and the lantern - all covered with colorful painting depicting: 67 mythical animals, more than 1,000 flowers, bunches of grapes and doughnuts. In the works participated young people - volunteers from all over the world, mainly Polish, American, French, German and Israeli. Workshops were held consecutively in the existing synagogues throughout Poland, among others in Wrocław, Kraków, Kazimierz Dolny, Rzeszów, Sejny, Gdańsk and Szczebrzeszyn, as well as in Sanok, where in the open air museum there was built a timber roof truss. In each city, the workshops were accompanied by a rich educational-cultural program of activities, so that participants could deepen their understanding of the Jewish and Polish culture and get to know each other during these numerous fieldtrips, workshops and discussions.
The workshops have been made possible thanks to Handshouse Studio, which has generously donated the wooden bimah to the Museum's Core Exhibition, and  philanthropist Irene Pletka's ongoing support of the Gwoździec Re!construction project.