Drawing by Ryszard Moszkowski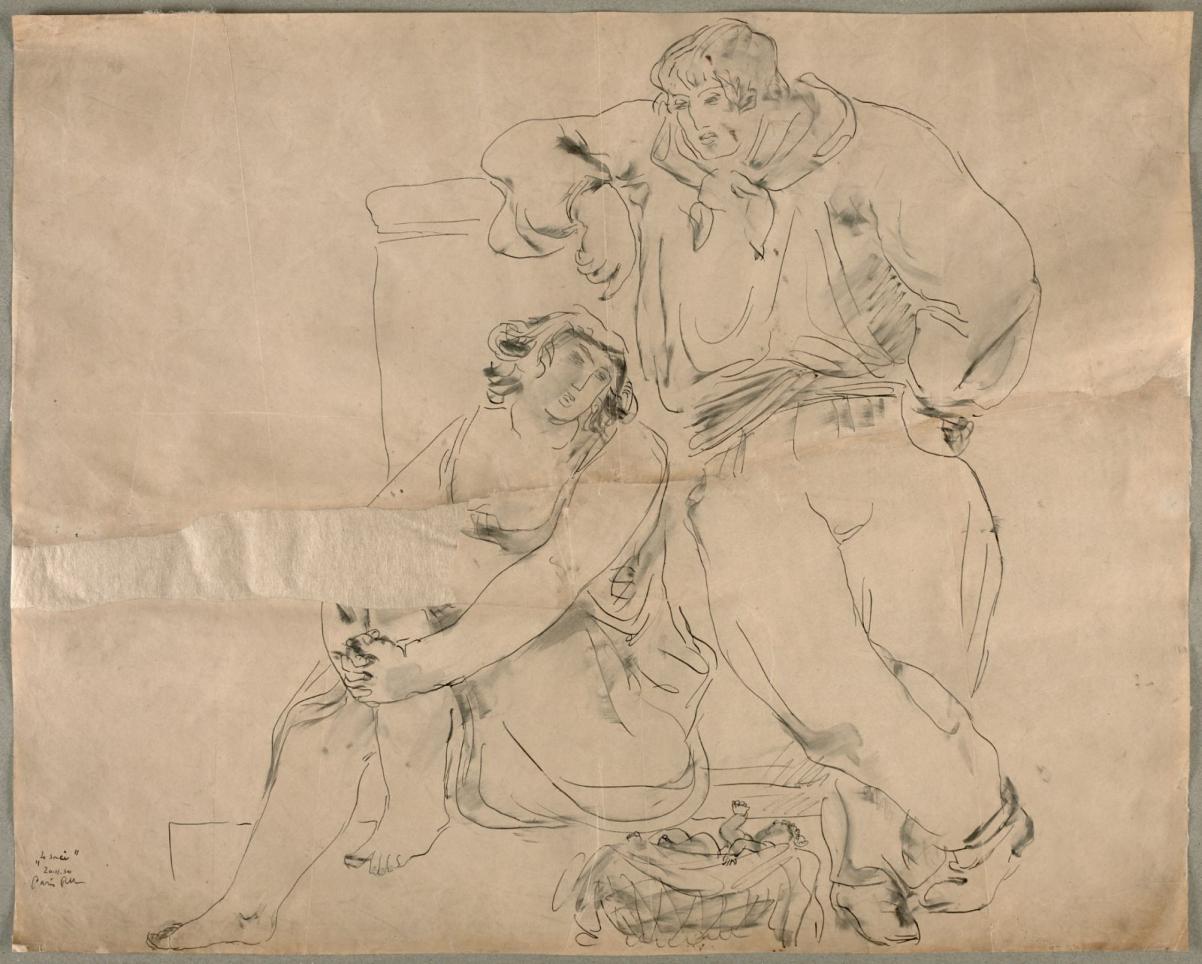 We do not know of any surviving photographs of the sculptor and architect Ryszard Moszkowski (1906–1945). We know very little about him, too. Moszkowski was born and lived for many years in Belgium (where he also studied), and in France; he returned to Poland in 1937. While in Paris, he exhibited at the Autumn and Tuileries Salons (1931 and 1935, respectively).
His return to Warsaw might have been related to the sculptural work for the city's first skyscraper (overdoors above the side entrances), erected by the "Prudential" British insurance company in the years 1931–1933 according to Marcin Weinfeld's design. One of the sculptures survived and is now kept, along with several others, in the collection of the National Museum in Warsaw. More than a dozen sculptural works by Moszkowski are part of the collection of the Jewish Historical Institute. This repertory has now been enriched by the beautiful drawing from POLIN Museum. A sketch of a woman, man and child, drawn in Paris, is titled "Le souci" [Sorrow]. This ironic title may refer to the birth of a child.
We know most about the fate of Moszkowski during the war. The sculptor's wife was famous pianist Róża Etkin, winner of the 3rd Prize at the 1st International Chopin Piano Competition (1927). In February 1939, Róża and Ryszard got married ("Głos Gminy Żydowskiej" 1939, nos. 5–6, p. 138). They spent the wartime in Warsaw, on the so-called "Aryan" side, as Mr and Ms Roszkowski. Barbara Loeffler-Zbrożyna thus recalled her wartime education: "I was introduced to the mysterious world of art […] by a man I met, Ryszard [M]oszkowski—painter, sculptor, architect, skilled writer. It was at his home, in the atmosphere of high art, that I took my first steps in sculpture, drawing and painting. I liked his works; he also introduced me to French artists: Maillol, Despiau, Gimond, Valery, Giacometti, as well as the Etruscan sculpture. They were all gentle and warm towards people, just like Ryszard" (quoted after: A. M. Leśniewska, "Barbara Zbrożyna", Orońsko 2006, p. 33).
The Moszkowskis resided in Żoliborz, which also bears the last trace of their tragic wartime existence. We do not know how and where exactly Róża and Ryszard Moszkowski perished. In all likelihood, fearing their true identity would be discovered by the Germans during ID checks, they decided not to join the civilians leaving the city after the fall of the Warsaw Uprising. Like many Jews, they chose to remain in hiding. Most likely, they were found and shot dead by the Germans in January 1945 (more information: E. Toniak, "Ryszard Moszkowski: on absence", "Pamiętnik Sztuk Pięknych" [Fine Art Journal] 2017, No. 12, pp. 185–194).
In 2021, Marek Sawicki, Ryszard Moszkowski's nephew (son of Ryszard's cousin) came across the drawing in a pre-war magazine kept in the archives of the Moszkowski family. 
The drawing, donated to the POLIN Museum collection, has undergone conservation.